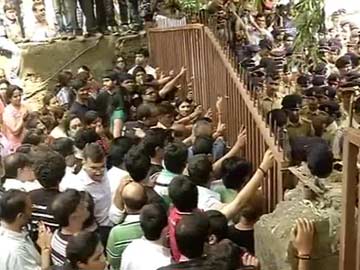 New Delhi:
The Supreme Court today declined to stay the eviction of residents of unauthorised flats in Mumbai's Campa Cola housing society.
As per an earlier Supreme Court order, the residents of Campa Cola society will have to vacate their apartments tomorrow.
A bench of justices Jagdish Singh Khehar and C Nagappan also agreed to hear the matter on Tuesday after senior counsel Vikas Singh told the apex court that it was a human problem as 40 families would be evicted.
The Supreme Court had earlier declined to stay the demolition and directed the occupants to vacate the premises by 31 May. It had also later turned down an appeal to extend the deadline for vacating. (
May 31 Deadline to Vacate Campa Cola Society Stands, Says Supreme Court
)
Seven high-rises were constructed at what is called the Campa Cola Compound, between 1981 and 1989. The builders had permission for only five floors, but constructed several more. One of the buildings, Midtown, has 20 floors. Another building, Orchid, has 17.
The residents have been fighting a legal battle since 1999, when they first went to the Bombay High Court for water supply and regularisation. The court asked city officials to investigate, and the municipal corporation then served demolition notices for all flats constructed above the fifth floor, which it said were illegal. (
Mumbai: Campa Cola Society demolition on hold, Supreme Court considers new solution
)