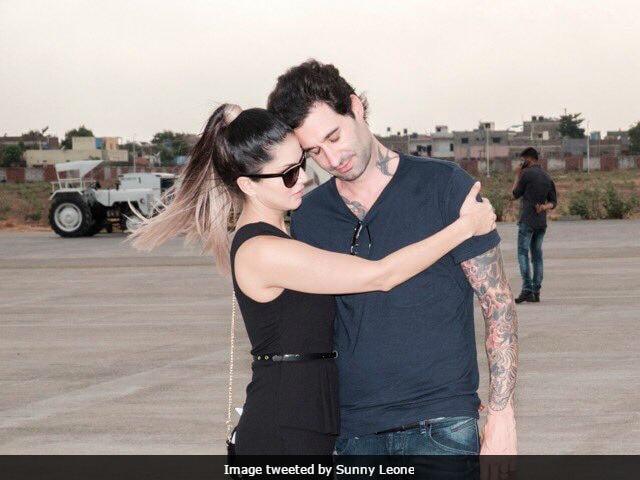 Highlights
Sunny Leone completed her trip back home by road
We drove eight hours to get back to Mumbai, said Sunny Leone
Sunny Leone also shared videos of her mid-air 'harrowing' experience
Mumbai:
Actress Sunny Leone and her husband Daniel Weber were on their way to Latur in a private aircraft on Wednesday when their plane got caught in the middle of a storm and almost crashed due to bad weather. Sunny immediately logged on to Twitter and shared a video. Yesterday, at an event in Mumbai, Sunny Leone r
ecounted those scary moments
to the media. She revealed that she kept her cool through the experience and what was going through her mind. After navigating heavy weather, a shaken Sunny Leone and Daniel Weber got off the plane at Aurangabad and drove back to Mumbai.
"Firstly,
the plane didn't crash, that's why I'm here
. We were going to Latur for an event. Their runway does not accommodate a large private plane, it only accommodates small planes. So when we were coming back, we had to stop for refuel and while going in, we hit a stormy area, which was unpredictable. There was a lot of turbulence, it was very scary! I didn't hear what the pilots were saying, I was zoned out, I was with Daniel, he has a fear of turbulence - I stay calm when crisis happens. We got through it, and that's all you can hope," Sunny Leone told the media.
"I thought about it later and I was up till 6 am. I thought, who would take care of the house, who would look after my dogs. I think about these things at a later stage, I'm calm at that moment. Once we got off at Aurangabad we decided not to get onto that plane again, so we drove eight hours to get back to Mumbai. The pilots said this was the worst experience in their entire flying career," said Sunny.
Once she was safe on ground, Sunny posted several updates on Twitter:
Footage from the plane during the turbulence! Thanks to the brave pilots who ensured that the plane landed safely!! pic.twitter.com/HryzkF1dkd

— Sunny Leone (@SunnyLeone) June 1, 2017
Well after everything that happened today the 1st place we stopped to eat! @DanielWeber99@tomas_moucka@911Yusuf@ansh_rulez@yofrankaypic.twitter.com/RVOLzKhSR5

— Sunny Leone (@SunnyLeone) May 31, 2017
Thanks everyone for your good wishes! Xoxo love you all!

— Sunny Leone (@SunnyLeone) May 31, 2017
Sunny Leone, 30, last had a lead role in
Beiimaan Love
, co-starring Rajneesh Duggal. She also appeared in a special song sequence in Shah Rukh Khan's
Raees
.