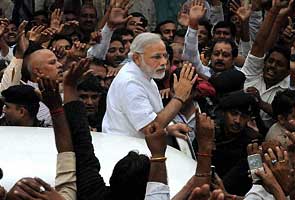 Patna:
Gujarat Chief Minister Narendra Modi was in Nitish Kumar's Patna on Sunday - his first visit to Bihar in two years. Mr Modi visited the state's capital, along with other senior BJP leaders, to pay his respects to the BJP's veteran leader Kailashpati Mishra, who died on Saturday after prolonged illness.
As soon as Mr Modi emerged from the residence of Mr Mishra after paying condolences, there was chaos outside. Some BJP workers shouted slogans in favour of Mr Modi being made the next prime minister.
"Desh ka Pradhan Mantri kaisa ho, Narendra Modi jaisa ho" (a person like Narendra Modi should be the Prime Minister)," shouted the BJP workers.
The Gujarat Chief Minister is often seen as one of the most popular leaders of the BJP, and is often said to be one of the strong contenders for the NDA's prime ministerial candidate in the 2014 general elections.
The last time Mr Modi visited Bihar was for the BJP national executive meeting in June 2010.
In Bihar, Nitish Kumar runs the government with the BJP, but he does not share the most cordial relations with Mr Modi. The Gujarat Chief Minister, who is the BJP's star campaigner, was not invited to campaign for the Bihar elections in 2005 and 2010 following strong protests by Mr Kumar. In a series of interviews, the Bihar Chief Minister has said that his party, the Janata Dal (United) will not support any candidate for PM who does not have secular values.
The supporters of both Mr Kumar and Mr Modi insist that their leader is a potential Prime Minister. However, Mr Kumar says that he is not an aspirant for the post of PM and that he is happy managing Bihar.
Apart from Mr Modi, BJP veteran LK Advani, Leader of Opposition in the Lok Sabha Sushma Swaraj, Leader of Opposition in the Rajya Sabha Arun Jaitley and BJP General Secretary Ananth Kumar also visited Mr Mishra's residence in Patna.
(
With PTI inputs
)