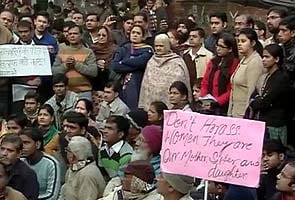 New Delhi:
The brutal gang-rape case in Delhi has stirred state governments across the country to initiate steps to improve security for women, and review law enforcement mechanisms.
The nationwide groundswell of outrage in the wake of the medical student's horrific gang-rape, and subsequent death, has forced governments to shed characteristic apathy and indifference, and address long-overlooked issues regarding the safety of women.
Maharashtra

Maharashtra has proposed setting up a special women's cell in all police stations, counselling centres across the state, and an increase in the presence of women in the police force. Cops who fail to register a complaint of crime against women will now face action. Home Minister R R Patil has also mooted the setting up of 25 special fast-track courts to hear cases of serious crimes against women in a time-bound manner.
Rajasthan
In Rajasthan, the Jaipur district administration has launched a 24-hour helpline for women called 'Garima'. The number - 7891091111 - has facilities for making calls, sending SMS, and e-mails. District officials promise that counsellors manning the helpline will also call back those who make missed calls to these numbers and, with the help of NGOs and the police, will try and resolve the caller's problems. According to the National Crime Records Bureau, Jaipur is among the five most unsafe cities for women in the country.
Tamil Nadu
Yesterday, Tamil Nadu Chief Minister J Jayalalithaa announced a 13-point action plan that her government will implement to counter crimes against women. This includes the establishment of special Mahila fast-track courts in each district, installation of Closed Circuit Television (CCTV) in all public buildings, and deployment of police personnel in plainclothes at public places frequented by women.
Karnataka
The state government has said that soon all taxis, autorickshaws, and state transport buses will be equipped with surveillance cameras. Taxis and autorickshaws will also be GPS-enabled. The state government has also proposed booking rape offenders under the stringent Goonda Act, which allows for preventive detention without bail.
Uttar Pradesh
The state has mooted booking sexual offenders under the National Security Act, which allows the government to keep them behind bars for a year.
Meanwhile, the Delhi Police is expected file its chargesheet against the six accused in the gang-rape case today. The Chief Justice of India will inaugurate the first of five fast-track courts to ensure speedy justice for women in the capital at Saket today. 'Amanat's' (NOT her real name) case will be heard here. All five courts will start functioning from tomorrow and hear cases on a daily basis.
Amanat was assaulted with an iron rod and raped by six men on a moving bus on December 16 in the capital. She died on December 29 at a hospital in Singapore, where she had been flown for treatment. The incident stirred a series of demonstrations across the country - Delhi being the epicentre - with students and activists demanding tougher punishment for rapists as well as measures to enhance the safety of women.
(With PTI inputs)