Mumbai:
Highlights
Many farmers skipped wearing protective gear
100 farmers still recovering at district hospital in Yavatmal
Experts say new spray machines could be responsible
Twenty nine-year-old Inder Rathod, who works on cottons fields in Maharashtra's Vidarbha region, had sprayed pesticide on the crop last week. That was the last time he saw the lush fields and fluffy cotton crop. "After the spray, I couldn't see anything. It was so sudden," he said.
He gets paid Rs 200-250 per day for the hazardous job. "I have three kids and a wife and I am the only earning member. If my eyesight is gone, I don't know how will I feed my family?" he said.
Depression and hopelessness drove him to attempt suicide four days ago. He jumped off a two-storey house. He survived but fractured his leg and is now recovering in a hospital.
Brahmanand Adik, 39, was also exposed to poison and had temporary loss of vision. "I had sprayed insecticide that day. Then my head started aching and I couldn't see clearly. After that I found myself in the hospital," Mr Adik told
NDTV
.
At least 20 farmers have died in the last month due to poisoning after spraying pesticides, some of them lethal mixtures. They skipped wearing protective gear. The first death was reported in early August. Over 600 farmers have been affected by pesticide inhalation since. With symptoms like blurred vision, nausea, skin rashes, headaches and dizziness, over 100 farmers are still recovering at the district hospital in Yavatmal. Some have lost their sight and others are in the intensive care unit or ICU in a critical state.
For Yavatmal district, about 670 kilometres from the state capital Mumbai, which already sees a high number of farmer suicides due to agrarian crisis, this has come as a big blow.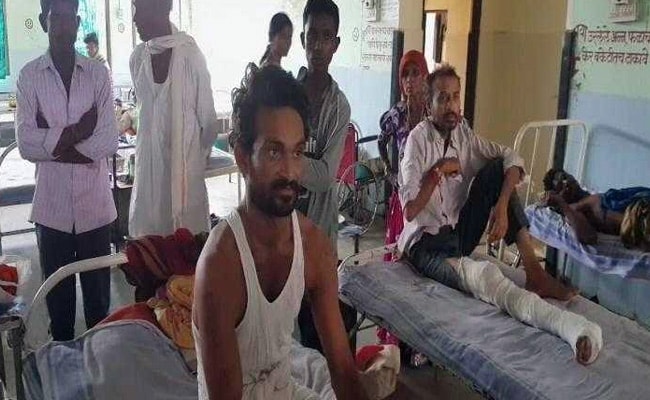 Experts say that the new spray machines and flouting of Central Insecticide Board norms are to blame for the tragedy.
Dr Sharad Nimbalkar, former Vice Chancellor of Dr Panjabrao Deshmukh Agriculture University, said, "Most of the new molecules available in the market don't have specific antidotes mentioned. It has been written on most of the pesticides that there is no specific antidote but treat symptomatically."
The government admitted failure to take timely action. The district administration didn't inform the state government about the alarming situation on time, Maharashtra Agriculture Minister Pandurang Fundkar was quoted as saying by news agency Press Trust of India.
Chief Minister Devendra Fadnavis on Tuesday ordered an inquiry and announced Rs 2 lakh compensation to the families of each deceased farmer. Five Krishi Seva Kendra (privately owned) owners have been booked for selling pesticides without protective gear.
On Friday, the Nagpur bench of the Bombay High Court issued notices on a petition seeking criminal action against the officials concerned and pesticide firms.
The government is now taking steps regulating the sale of pesticides to ensure that they are cleared after safety checks and farmers use protective gear while spraying insecticides. But many say it is too late in the day to act.
Govardhan Satpute, a farm hand, is in the ICU. His brother Jeevan tells us there is no help from the government yet. The family is worried as he is the sole earner.
Activist Devanand Pawar said, "This is a serious issue. The role of the government in providing relief is missing. People are suffering in the hospital but there is no relief."
Get Breaking news, live coverage, and Latest News from India and around the world on NDTV.com. Catch all the Live TV action on NDTV 24x7 and NDTV India. Like us on Facebook or follow us on Twitter and Instagram for latest news and live news updates.