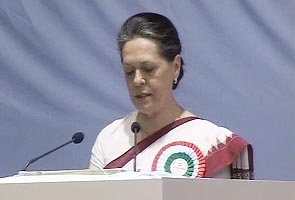 New Delhi:
Congress president Sonia Gandhi, her general secretary son Rahul Gandhi and daughter Priyanka Vadra will be touring the family pocket borough of Amethi-Rae Bareli in Uttar Pradesh on Thursday.
Mrs Gandhi will be holding the party's district monitoring committee meeting at her Rae Bareli Lok Sabha constituency. Mrs Vadra too will be in Rae Bareli for closed-door interactions with Congress workers.
Mr Gandhi will be visiting Amethi. He will be holding closed-door meetings with Congress workers in Jagdishpur and Bazar Shukul apart from attending public functions.
The Gandhi family of late has been under fire for alleged corruption. First activist-turned-politician Arvind Kejriwal accused Mrs Gandhi's son-in-law Robert Vadra of making crores through shady property deals with real estate developer DLF.
Then Janata Party chief Subramanian Swamy last week accused the Congress president and her son of a "stinking deal" where they floated a private company that illicitly acquired a public limited company having valuable property in Uttar Pradesh and Delhi.
Mr Swamy alleged the Congress gave an unsecured loan of Rs 90 crore to the company that was acquired by Young Indians, a firm that he claims is controlled by the Gandhis.