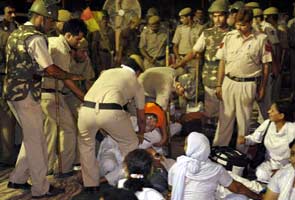 New Delhi:
Against the backdrop of the Supreme Court slamming the Delhi Police for its midnight crackdown against supporters of Ramdev, the BJP has held Congress chief Sonia Gandhi, Prime Minister Manmohan Singh and Union ministers P Chidambaram and Kapil Sibal "accountable" for the incident.
"Such an attack on peaceful supporters of Ramdev would not have been possible without political clearance at a very high level. The policemen have suffered, but what about political accountability?" BJP chief spokesperson Ravi Shankar Prasad asked.
He said the BJP holds "not only" Home Minister Chidambaram and HRD Minister Sibal "accountable and responsible" for the incident but also Gandhi and the Prime Minister "accountable" for it.
"(That is)... because her party and the government have sustained a campaign against Ramdev, Anna Hazare and Sri Sri Ravi Shankar," he alleged.
He said the apex court judgement "reinforces" that the UPA government is "repressive" against those who expose and try to protest against corruption.
"The earlier judgement on 2G further establishes that the UPA government is also corrupt... the 122 licences cancelled were granted through corruption and manipulation," the Rajya Sabha member said.
The apex court in its verdict today castigated the Delhi Police and the yoga guru for the midnight violent incident at the Ramlila Maidan last year and said it was a "glaring example of trust deficit" between the people and the government.
A bench of justices B S Chauhan and Swatanter Kumar said that incident showed might of the state which struck at the foundation of democracy.