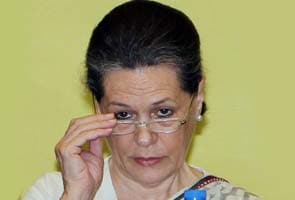 New Delhi:
The Congress-led UPA government is in a minority and its immediate task is to ensure survival. It has been forced to scrounge for numbers by ally Mamata Banerjee, who announced yesterday that she was exiting the UPA government in protest against a menu of new reforms introduced last week. Congress president Sonia Gandhi met top party leaders for over an hour this morning to take stock of the new crisis the government has been plunged into. After the meeting, Mrs Gandhi smiled at reporters and gave them a thumbs-up.
(After Mamata pullout, Congress gauges room for compromise: Top 10 facts)
The Congress core group - which includes the PM, AK Antony, Ahmed Patel and P Chidambaram - had several points to ponder on as they met at the PM's 7 Race Course Road residence. Congress sources say Mamata Banerjee's decision needs a political call as the new situation threatens the government.
Two of Ms Banerjee's ministers are headed to Delhi right now. Sources in the Congress say they will try to hold talks with these leaders. They added that before Ms Banerjee announced her pull-out, the PM phoned her twice, but both calls were not returned.
As she announced her divorce with the UPA yesterday, Ms Banerjee seemed to leave some room for compromise - she said her six ministers will resign only on Friday. But her party is continuing to talk tough the morning after. Trinamool MP Kunal Ghosh tweeted today, "Before accepting the resignation of Trinamool Congress ministers, the Prime Minister should step down and seek a fresh mandate on whether the country is permitting his policies or not."
(Who is Mamata Banerjee?)
Sources in the Congress say that party president Sonia Gandhi is likely to try to negotiate that compromise by reasoning with the Manmohan Singh government. Mamata Banerjee wants the government to withdraw a diesel price hike and a restriction on the supply of subsidised cooking gas and wants a decision to open up India's huge retail sector to foreign super-chains like Wal-Mart rolled back. Ms Banerjee described those decisions as "a disaster for the poor" and said her party had been shown minimal respect by the UPA. While there will be no reversal of the retail reforms, sources say, the government may agree to a partial rollback in diesel prices, along with increasing the cap on LPG cylinders from six to nine per year. Mamata Banerjee says she wants it increased to 24.
(Poll: Should the government give in to Mamata Banerjee?)

The Prime Minister has, according to sources, driven home the point that he is committed to the reforms needed to jumpstart the economy; he allegedly told senior ministers that their government "must stay the course" and that it has "an unfinished agenda" for the economy for which it will allow "like-minded people" to help.
As a political party the Congress, sources say, is of the view that mid-term elections must be avoided as polls are costly. The party wants to now look for support from partners that can provide stability and help it complete its term. Congress leader Digvijaya Singh though said today that if push comes to shove, his party is ready to face early elections. "People do select the government for five years. If the government does not complete its tenure, then we are ready for mid-term polls," he said.
Mamata Banerjee is the Congress' biggest ally in the UPA with 19 MPs. The DMK, which follows close behind with 18 MPs, five of whom are ministers, is also now said to be dithering over its next step. Sources in the Southern party, which has 18 Lok Sabha MPs, say that the DMK has decided "not to embarrass the UPA" and that its course will not be affected by Ms Banerjee's pull-out last night. The party, will however, participate in a bandh called tomorrow to protest against the Centre's decisions last week. Sources said this morning that a section of the DMK wants to quit over these reforms, but that the party is hopeful that Sonia Gandhi will stage an intervention.
(Won't pull out of UPA, say DMK sources, but will take part in bandh)
Before it decided to implement 51% Foreign Direct Investment or FDI in retail, the government had calculated its political risks. Ms Banerjee has 19 Lok Sabha MPs. Mulayam Singh Yadav and his Samajwadi Party, who provide external support to the UPA, have 22. Ms Mayawati and her Bahujan Samaj Party (BSP) have another 21. So though the UPA is in a minority without the Trinamool Congress, it can be propped up by Mr Yadav and Ms Mayawati.
With the support of Mulayam Singh Yadav and Mayawati, the UPA would still have more than 300 MPs on its side. It needs 272 to stay in power. But the government will now be more vulnerable to demands from those partners, who are both opposed to FDI in retail.
Mulayam Singh Yadav, who landed in Delhi on Tuesday night and plans to meet with the Left and other parties to gauge their reaction to the UPA's new position, is already playing hard to get. "Don't take us for granted," warned his party's Ram Gopal Yadav after Ms Banerjee's announcement yesterday. Today Mulayam Singh Yadav said Samajwadi Party's Parliamentary Board will meet tomorrow to decide its future course of action. Mr Yadav is also taking part, along with the Left and the BJP, in a nationwide bandh or strike tomorrow against the Centre's new policies. (
Mulayam keeps UPA on tight leash, verdict on support tomorrow)
The Congress is now said to be looking at Mayawati's Bahujan Samaj Party and some Independents as its best bet to keep it in a majority in the Lok Sabha. Sources in Mayawati's party say she will decide on her relationship with the UPA at a meeting of her party on October 9. The BSP has voiced demands very similar to Mamata Banerjee's - a rollback in diesel prices and on the new norms for LPG. It also wants the government to withdraw the decision on FDI in retail. But unlike Ms Banerjee or Mr Yadav, who are riding recent electoral successes and would not mind mid-term elections to extend their gains, Ms Mayawati is still smarting from her defeat in Uttar Pradesh this year and she will not want early polls since she is unlikely to make too many gains.
(With inputs from Agencies)