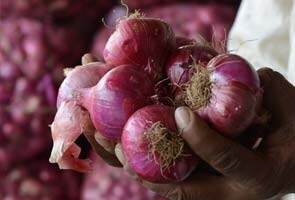 New Delhi:
Onion prices have gone through the roof across the country, retailing at as much as Rs 80 per kilo in some areas, including the national capital.
A number of factors, like the drought in Maharashtra and heavy rains in other growing areas have impacted the essential vegetable. A worrying factor is also the role of middlemen hoarders who may be sending up the price.
Delhi Chief Minister Sheila Dikshit has sought Union Agriculture Minister Sharad Pawar's "urgent" intervention to cut the export of onion to check the prices in domestic markets.
The Delhi government has arranged for 50 mobile vans to sell onion at reasonable prices. Strict action against hoarders has also been announced.
At Nasik's Lasalgaon, Asia's largest wholesale onion market, prices have jumped by 25 per cent in just three days. First the drought squeezed production at Nasik followed by the rains spoiling the crop in Karnataka. The supply has dwindled in Rajasthan too.
Minister of State for Agriculture Tarique Anwar says erratic weather affected the supplies and hopes that things will improve soon.
Soaring food prices are a potential political tinderbox especially with national elections close-by. The ruling Congress must remember 1998 when the onion prices had gone up to Rs 60 a kg in Delhi. The Congress under the leadership of Ms Dikshit made it the electoral issue and pushed the Bharatiya Janata Party (BJP) government out of power.
With price rise and inflation bound to be election issues again, will the tables turn in 2014?