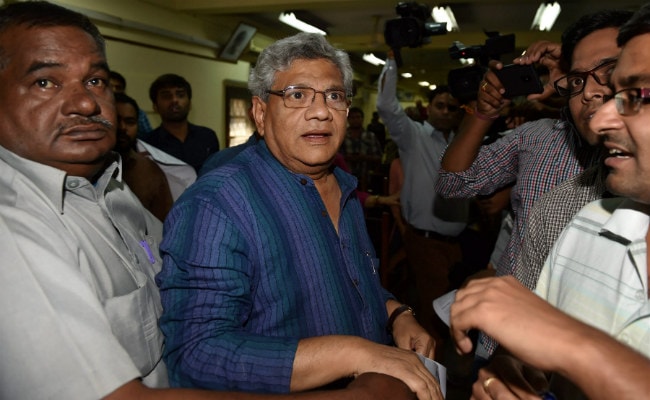 New Delhi:
Communist Party of India-Marxist general secretary Sitaram Yechury led a band of Left volunteers to join the march by AAP workers that aimed for the Prime Minister's residence in Delhi on Sunday but was stopped by the police midway, signalling closer than before ties between the opposition parties in their confrontation with the BJP-led central government.
Mr Yechury said his party condemns the manner in which the federal feature of the constitution was being "undermined" by the BJP government at the centre.
"Joining the protest rally to the prime minister's residence today to express serious condemnation over the manner in which the federalism, a fundamental feature of our Constitution, is being undermined by this BJP central government," he said in a statement.
"Utilising the office of governors and Lt governors, the BJP central government is seeking to destabilise non-BJP democratically-elected state governments," he said.
He said the governor's office was sought to be utilised to "hijack people's mandate" in Karnataka, which was thwarted.
His reference was to Karnataka governor inviting the BJP to form the government in the state. The Congress-JD(S) post-poll alliance, however,
formed the government in Karnataka.
"Such efforts are destroying the already fragile centre-state relations which is the backbone of the federal content of the Indian Constitution," Mr Yechury said.
By stating that the communists in India were the first victims of central "authoritarian misuse" of constitutional provisions when the democratically-elected government in Kerala was "undemocratically dismissed" in 1957, he pointed out that this often happened with Left-led governments in Kerala and West Bengal subsequently.
The Left's support for Mr Kejriwal came in spite of the Congress, the biggest opposition party, coming out openly against the Delhi chief minister he should concentrate on governance rather than theatrics, creating a rift within the opposition unity.
The CPI(M)'s support to Mr Kejriwal came as the Telugu Desam Party (TDP), the Trinamool Congress (TMC) and the Janata Dal Secular (JDS)
also appeared to be supporting him
in the confrontation with the Delhi Lt. Governor and the Centre.
TMC chief and West Bengal Chief Minister Mamata Banerjee, Kerala's Pinarayi Vijayan, Andhra Pradesh's N Chandrababu Naidu and Karnataka's H D Kumaraswamy had a meeting with Prime Minister Narendra Modi and Home Minister Rajnath Singh on the sidelines of
the NITI Aayog Governing Council meeting
and urged the Centre to resolve the issue.
Mr Kejriwal and his three cabinet colleagues have been staying put at the waiting room at Raj Niwas, protesting against what they call a strike by Delhi government IAS officers. One of the ministers Satyendar Jain, who was on a hunger strike,
was hospitalised late on Sunday.
The IAS officers
have denied they are on strike.