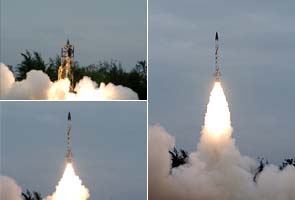 Bhubaneswar:
India today successfully conducted the first test-fire of its indigenously developed short-range, quick reaction, tactical missile 'Prahar' from the Integrated Test Range off Orissa coast.
"The test launch was fully successful as the surface-to-surface, sleek missile mounted on a road mobile launcher, roared into an overcast sky, seconds within its blast off," defence sources said.
The sophisticated missile was test fired from ITR's launch pad-3 at about 8:15 am leaving behind its trajectory in an orange and white ribbon of smoke, they said.
"The missile witnessed a smooth vertical take-off from the launch pad and vital parameters will be analysed after mission data is retrieved," said a Defence Research Development Organisation (DRDO) scientist soon after the missile was test-fired.
The 150 km range 'Prahar' is a single stage missile and is fuelled by solid propellants.
The uniqueness of the missile system is that "in one salvo, six missiles can be fired with multiple targets," said a scientist associated with this project.
This short range missile would be an 'excellent weapon' which would fill the gap between unguided multi-barrel rocket system 'Pinaka' with 40 km range and guided missiles like 'Prithvi', which can strike at 250 km to 350 km range.
In view of the scheduled missile test today, the Balasore district administration had as a precautionary measure temporarily evacuated 3,220 persons residing within two km radius of the launch pad-3 in to nearby shelter centers.
Fishermen were also warned not to venture into the sea during the missile test time.