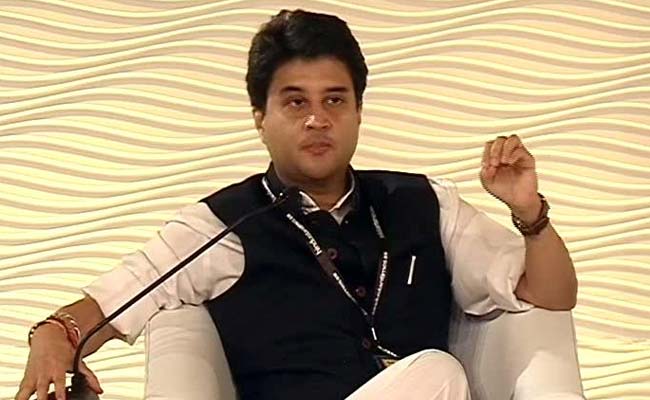 Indore:
Stating that the death of five farmers in police firing in Mandsaur was a blot on the Shivraj Singh Chouhan government, Congress leader Jyotiraditya Scindia has equated the BJP regime in Madhya Pradesh to "Hitler's rule".
"The police firing on farmers agitating for getting right price for their produce and waiver of loans, which resulted in the death of the five of them is a blot on the Shivraj Singh government in the state. It appears that Hitler's rule is prevailing in the state. Mr Chouhan has no right to remain in power," Mr Scindia told reporters at the Indore Press Club.
"It is a matter of shame that instead of meeting grieving farmers' families, the chief minister staged a nautanki (drama) in Bhopal in the name of a fast. By announcing a hefty compensation for them, the Chouhan government tried to trivialise invaluable human lives through money," he alleged.
Mr Scindia, who also met injured farmers at the government MY Hospital in Indore said, "I am totally shattered with their ordeal. They alleged that after firing, police dragged them on the roads and also took away money and mobile phones from their pockets."
The former union minister claimed that police have termed nearly 700 agitating farmers as anti-social elements and have registered cases against them while it has not yet filed a case against those policemen, who ordered to open fire at the protesters.
He went on to allege that the state government was just hushing up the matter in the name of an investigation. "The policemen in Khaki dress should not consider themselves as god," he said.
The Congress leader also denied allegations that his party had added fuel to the agitation. "Congress has no role in the farmers' agitation. We always follow the path of non-violence shown by Mahatma Gandhi," he said.
Targeting Prime Minister Narendra Modi, Mr Scindia alleged that nearly 65 crore people are dependent on agriculture in the country, but the government has hiked the rates of power and diesel, which has increased the cost of cultivation, forcing the farmers to commit suicide.
Mr Scindia also announced to stage 72-hour 'satyagraha' in support of the farmers at Bhopal from June 14.