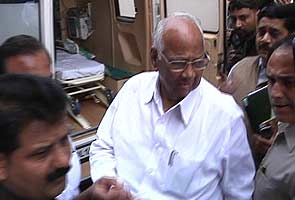 New Delhi:
Senior union minister Sharad Pawar fainted this morning in the Lok Sabha. Mr Pawar, who is the country's Agriculture Minister, was admitted to the Dr Ram Manohar Lohia (RML) hospital and was later discharged in the evening.
Mr Pawar underwent several medical tests at the hospital following which doctors advised him rest. "It is a protocol in a government hospital, they do not want to take a chance so they asked him to take some rest. There is nothing serious," PTI quoted an aide of Mr Pawar saying .
Mr Pawar refused to go in an ambulance and opted for a check-up in his own car, news agency ANI reported. Mr Pawar was accompanied by his daughter and Baramati MP Supriya Sule and Union Minister Praful Patel. Mr Patel later said Mr Pawar's blood-sugar level dropped and he felt dizzy.
Mr Pawar had answered a number of supplementaries on questions related to agriculture during the Question Hour in the Lok Sabha. The 71-year-old leader was in the Lok Sabha lobby when he felt a bit uneasy.He had returned to the capital from Mumbai late last night.
His Nationalist Congress Party (NCP) is a member of the UPA coalition at the centre. Mr Pawar will not be attending the swearing-in ceremony later this week of Parkash Singh Badal as the chief minister of Punjab.
The Congress, which is the fulcrum of the UPA, had said that allies are expected not to cross the lakshman rekha by keeping company with political rivals. That statement was made after Mamata Banerjee's party, the Trinamool Congress, said she had accepted invites to the oath-taking ceremonies for both Mr Badal and the new chief minister of Uttar Pradesh, Akhilesh Yadav.
After the Congress made its displeasure cleat, Ms Banerjee's party said she would stay in Bengal to attend the assembly session there, and depute representatives to Punjab and Lucknow.