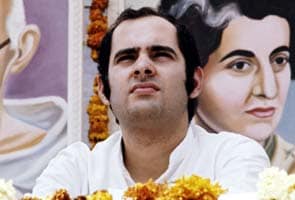 New Delhi:
In late August 1976, when India was under an Emergency that gave his mother Indira Gandhi absolute powers, Congress leader Sanjay Gandhi was shot at thrice by an "unknown assailant," according to a cable sent by US diplomats to Washington. It was the third attempt to assassinate Mrs Gandhi's younger son, they reported.
Mr Gandhi, then 30, was visiting Uttar Pradesh when the "well-planned assassination attempt" was made, the cable noted, and said he was "not critically injured." It credited the information to a clandestine source and said a high-powered rifle was used in the attack. <a href="https://www.wikileaks.org/plusd/cables/1976STATE220725_b.html" rel="nofollow">(Read the cable)</a>
The cable, sent about a week later on September 6, 1976, is part of the latest Wikileaks release and one among many despatches devoted to Mr Gandhi, then looked upon as the "heir apparent" of Congress chief and Prime Minister Indira Gandhi.
The cable quoted Indian intelligence to say that this was the third attempt on Mr Gandhi's life. Information on the attack, it said, was being tightly controlled and said it would eventually be blamed on "revolutionary elements sponsored by outside powers."
Mr Gandhi's political graph was on the rise then. Other cables from that year said Sanjay was being seen as the prime mover behind the Congress' revitalisation and was billed in the party as a national leader second only to his mother.
But electoral defeat and some years of ignominy were round the corner.
Five months after this reported attack on Sanjay Gandhi, Mrs Gandhi announced elections, to be held in March 1977. The Janata Party highlighted the suppression of civil liberties during the months of Emergency and vanquished the Congress. Morarji Desai took over as Prime Minister.
Indira Gandhi and the Congress would be back in power by May 1980. But the very next month, on June 23, Sanjay Gandhi died in a plane crash. His older brother Rajiv, who had kept well away from politics, had to reluctantly step in. It was he who eventually succeeded Mrs Gandhi both as Congress chief and as India's Prime Minister.