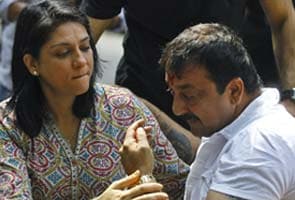 New Delhi:
Film star
Sanjay Dutt
, who has been convicted in an arms case related to the 1993 Mumbai blasts, will have to surrender and return to jail by Thursday (May 16), as ordered earlier by the Supreme Court.
The top court today rejected appeals filed by two film producers who were seeking more time for the actor to surrender so he could complete two of his under-production films. But refusing to accept their appeals, the court said today, "We had already said that no application for extension of time will be entertained."
Mr Dutt today filed another petition in a TADA court seeking permission to surrender directly to Yerwada jail in Pune instead of giving himself up before the special court. The court has asked CBI to file a reply and posted the hearing on Mr Dutt's plea till tomorrow.
Last week, the court had dismissed Mr Dutt's petition that his conviction in the case be reconsidered.
In March this year, the court had upheld his conviction and had sentenced him to five years in jail for possessing firearms supplied by men who executed the Mumbai bombings in 1993.
On April 17, the actor moved the court seeking six more months to surrender to allow him to finish pending films. But the court rejected his plea and gave him four weeks to wrap up his work.
The 53-year-old has already spent about 18 months in jail and has to serve three and a half years more.
Mr Dutt was convicted by a TADA court in 2006 for illegally possessing a 9 mm pistol and an AK-56 rifle which were part of a consignment of weapons and explosives brought to India for the coordinated serial blasts that killed 257 people and injured over 700 in 1993.