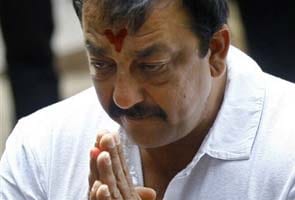 Mumbai:
Actor
Sanjay Dutt
, convicted in the 1993 bomb blasts case, told a TADA court on Tuesday that he was facing threat to his life from fundamentalist groups and should be allowed to surrender before Yerwada Jail in Pune instead of the special court in Mumbai.
Judge GA Sanap, hearing the actor's application, asked the CBI to file a reply and posted the hearing on Mr Dutt's plea for Wednesday. Public prosecutor Deepak Salvi appeared for the Government and CBI. Mr Dutt, whose conviction under the Arms Act was upheld by the Supreme Court recently, is supposed to surrender on today.
Mr Dutt filed the application in the TADA court, hours after the Supreme Court refused to grant the actor additional time to surrender for undergoing the remaining 42 months jail term in the 1993 Mumbai blasts case. The Supreme Court was hearing a petition filed by a film producer, who sought time for Mr Dutt to complete his under-production films.
On May 10, the Supreme Court had dismissed Mr Dutt's plea seeking review of its judgement on his conviction and five-year jail term. The 53-year-old actor was earlier granted four more weeks to surrender to undergo the remaining jail term.
The Supreme Court, on March 21, had upheld his conviction in the 1993 Mumbai serial blasts, which it said was engineered by underworld don Dawood Ibrahim and others with the involvement of Pakistan's ISI.
However, the court had reduced to five years the six-year jail term awarded to Mr Dutt by a designated TADA court in 2006 while ruling out his release on probation, saying the "nature" of his offence was "serious".
Mr Dutt was convicted by the TADA court for illegally possessing a 9 mm pistol and an AK-56 rifle that were part of a consignment of weapons and explosives brought to India for coordinated serial blasts that killed 257 people and injured over 700 in 1993.