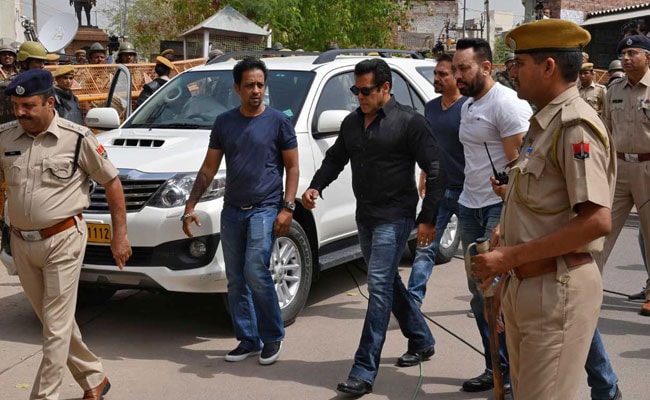 Highlights
Salman Khan will be in Barrack no. 2, said a police officer
Will spend the night in jail as his bail plea will be heard tomorrow
He spent 18 days in the same jail in 1998, 2006 and 2007
Salman Khan was taken to the Jodhpur Central Jail today after being sentenced to five years in prison for killing blackbucks in 1998.
The 52-year-old actor spent 18 days in the same jail in 1998
, 2006 and 2007. His lawyers say he will spend the night in jail as his bail request will be heard only tomorrow.
He will be in the same jail as
Asaram Bapu
, the spiritual leader
accused of raping a schoolgirl
in 2013.
Other prominent prisoners are Malkhan Singh Vishnoi, convicted in the
Bhanwari Devi case
, and
Shambu Lal Regar
, who
hacked a man to death on video
last year and circulated it on social media.
The route from the Jodhpur court to jail was cleared in advance so the star could be shifted without incident; there is heavy security in the jail because another prisoner,
gangster Lawrence Bishnoi, has threatened Salman Khan
.
"
He will be in Barrack no.2
, where Asaram Bapu has been lodged," said a police officer.
Salman Khan was held guilty of shooting dead two rare antelopes
in forests near Jodhpur and next to a village of Bishnoi tribals in 1998. The community is known for its devotion to the endangered animals.
Salman Khan was on the hunt with his co-stars
, Saif Ali Khan, Tabu, Neelam and Sonali Bendre and he was driving a Gypsy. On spotting a herd of antelopes, he shot dead two of them. The other actors have been cleared because of lack of evidence.
The Bishnois have been fighting for action against the star for nearly 20 years and have never given up.
They firmly believed they had clinching evidence.
Salman Khan was in 2015 cleared of charges in a hit-and-run in which his car crashed into men sleeping on a pavement in Mumbai, killing one.
Over the years, the actor has set up a charity, Being Human, and has been seen to work at shedding his "
bad boy of Bollywood
" image to display a more compassionate side.