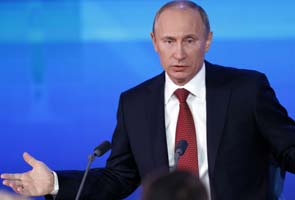 New Delhi:
Russian President Vladimir Putin arrives in New Delhi early on Monday for the annual India-Russia bilateral summit that will see both sides ink multi-billion dollar defence pacts.
Mr Putin will hold delegation-level talks with Prime Minister Manmohan Singh at 11.30 am at Hyderabad House, after which the two sides will ink the agreements.
The Russian president is to call on President Pranab Mukherjee at Rashtrapati Bhawan in the afternoon. Congress president Sonia Gandhi and Leader of Opposition in the Lok Sabha Sushma Swaraj will meet Mr Putin at the Rashtrapati Bhawan.
Mr Putin will leave for home at 4.30 pm.
Mr Putin, who entered the Kremlin as President in May, last visited India as prime minister in 2010.
Ahead of the visit, the Kremlin said Mr Putin will discuss "concrete steps to further develop strategic partnership" in trade, investment, military and energy policy.
Defence deals worth $7 billion could prove to be the show-stealer. The highlight will be a contract, worth around $4 billion, to buy additional Sukhoi 30MKI fighters equipped with Brahmos cruise missiles - an Indo-Russian joint venture.
India has already signed a pact for delivery of 80 Mi-17 V5 helicopters, of which 42 have been inducted since February this year.
Russia accounts for over 60 per cent of India's military hardware. On the trade front, the two sides are expected to reiterate the target for scaling up bilateral trade to $20 billion.