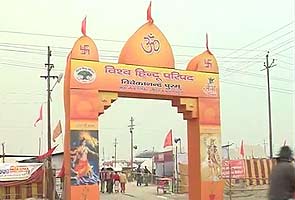 Allahabad:
The pressure on the BJP to declare Narendra Modi as its candidate for prime minister shot up today, with the right-wing Vishwa Hindu Parishad (VHP) endorsing the Gujarat Chief Minister for the job.
Minutes after that, the RSS, which is the ideological mentor of both the VHP and the BJP, said at a gathering of two lakh priests at the Kumbh Mela in Allahabad that it is up to the BJP to decide its prime ministerial candidate.
Within the BJP, there is a large section of A-listers opposed to a promotion for Mr Modi. The party has said its parliamentary board will decide most likely next month who it will position as its face ahead of next year's general election.
The VHP said as "the mascot of Hindtuva" Mr Modi makes the cut. With RSS chief Mohan Bhagwat present at the massive meet in Allahabad, it said that Mr Modi won Gujarat in December's state election even though he did not field a single Muslim candidate.
The VHP's endorsement of Mr Modi coincides with the BJP accepting that Hindutva will feature heavily in its campaign and agenda. The RSS is convinced that a hardline Hindutva stand will allow the BJP to re-gather a large traditional vote bank, rendering allies unnecessary.
Yesterday, BJP president Rajnath Singh pledged the party's support to building the Ram Mandir or temple at Ayodhya, where the 16th century Babri Masjid was razed in 1992. Today, he denied that this position could end important alliances with partners like Nitish Kumar, the Chief Minister of Bihar.
Mr Modi himself has stayed away from the RSS-led relaunch of the Hindutva agenda at the Kumbh Mela this week. In Delhi yesterday, he addressed a college audience and focused on good governance, the sort that he practices in Gujarat, he declared. "Vote bank politics has destroyed India. We need development politics,'' he said.
Senior leaders like Sushma Swaraj and Arun Jaitley, and even LK Advani, once a visible part of the Ram temple and Hindutva movement, also see more benefit in projecting a progressive political party that talks about development.