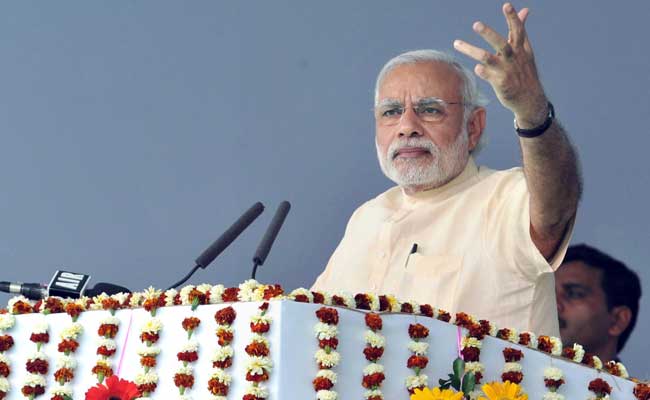 Paradip:
Loans worth about Rs 1 lakh crore have been sanctioned to small entrepreneurs under the Pradhan Mantri Mudra Yojana, Prime Minister Narendra Modi said today, emphasising that the government wants youth to be job creators and not job seekers.
Speaking at the inauguration of Indian Oil Corp's (IOC) Rs 34,555-crore Paradip Refinery, PM Modi said apart from public and private sector, there was a need for developing "personal sector" in which youth can become self-sufficient, start businesses and generate new employment avenues.
"We do not want youth of the country to become job seekers, we want that they become job creators so that they give employment to one, two or five people.
"So, under Mudra Yojana we are giving fund to the youth. We have disbursed about Rs 1 lakh crore. Within such less time, giving so much money to such people is not a small thing," PM Modi said.
Under Pradhan Mantri Mudra Yojana, which was launched in April last year, loans between Rs 50,000 and Rs 10 lakh are provided to small entrepreneurs.
In India, about 65 per cent of the population is below the age of 35 years and for the progress of these youth, there was a need to boost entrepreneurship, PM Modi said.
"We need to create employment opportunities for youth in the country. So, through Mudra Yojana, we wanted to make the youth self-sufficient," he said, adding that the government is moving ahead with the economic principle to make each individual and every family self-sufficient.
PM Modi said whenever there is a discussion on economy, it is only public and private sector that is talked out. "I'm giving emphasis on third sector. If there is importance of public and private sector in the economy, then the third sector on which emphasis should be given is the personal sector."
The Micro Units Development and Refinance Agency Ltd (MUDRA) focuses on the 5.75 crore self-employed who use funds totalling Rs 11 lakh crore and provide jobs to 12 crore people.
The banking sector has been allocated an overall disbursement target of about Rs 1.22 lakh crore during 2015-16 for Mudra loans.