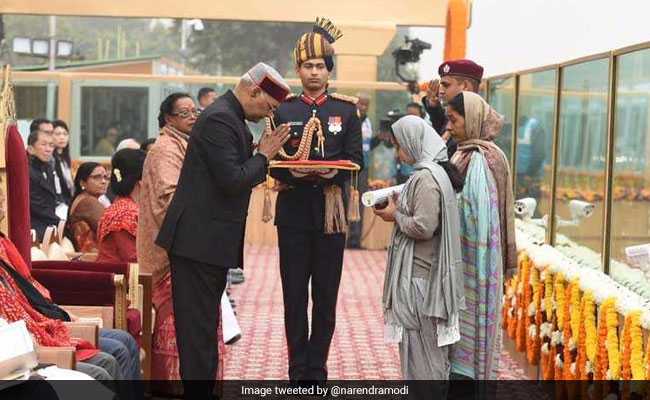 New Delhi:
President Ram Nath Kovind was seen wiping his eyes at the Republic Day function today as he awarded the Ashok Chakra, India's highest peacetime military honour, posthumously to Indian Air Force Garud Commando Corporal Jyoti Prakash Nirala. Corporal Nirala was killed after he shot down three terrorists in Jammu and Kashmir last year.

After presenting the award to Corporal Nirala's wife Sushma and mother Malti Devi at Rajpath, President Kovind was seen dabbing his eyes with his handkerchief. Corporal Nirala was part of a Garud Special Forces Unit of the IAF, a team of which was attached to a Rashtriya Rifles battalion as part of 'Operation Rakshak'.

On November 18, an offensive was launched in a village in Bandipora based on specific intelligence. The Garud detachment covertly approached the target house where the terrorists were hiding and laid a close quarter ambush.

In the exchange of fire, Corporal Nirala was hit by a volley of bullets. Despite being critically injured, he kept firing.

Six terrorists were shot dead during an hour-long gun battle. Among them was the nephew of Lashkar-e-Taiba chief and 26/11 Mumbai terror mastermind Zaki-ur-Rehman Lakhvi. Corporal Nirala shot dead three of the terrorists.


"Corporal Nirala, displaying exceptional battle craft, positioned himself close to the approach of the hideout, thus cutting off all possibilities of an escape by the terrorists. Laying the ambush at such close quarters demanded a very high degree of courage and professional acumen," the Defence Ministry said in a statement.
"Corporal Nirala exhibited most conspicuous gallantry in fighting with terrorists and made supreme sacrifice," it added.
Jyoti Prakash Nirala, a resident of Bihar's Rohtas district, had joined the Indian Air Force in 2005.
The Kirti Chakra, the second highest peacetime military award, was given to Major Vijayant Bisht of the Army, who led an ambush in Jammu and Kashmir's Uri district and killed two terrorists while saving the life of another soldier.