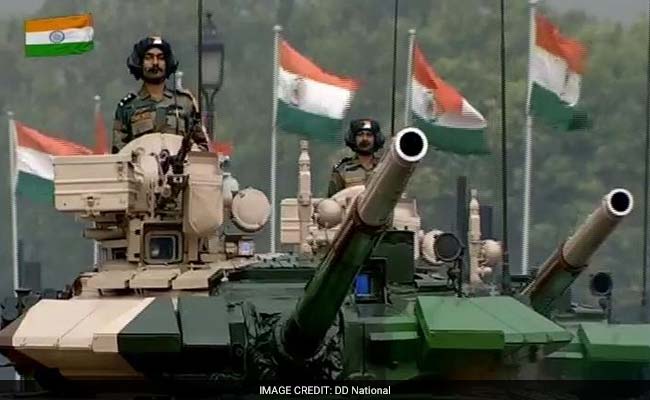 New Delhi: India celebrated its 68th Republic Day today with a grand parade at Rajpath, the ceremonial road in the heart of Delhi flanked by the country's most important buildings. President Pranab Mukherjee, Prime Minister Narendra Modi, Union Ministers, dignitaries and hundreds others watched the parade that showcases India's military strength and cultural diversity. Abu Dhabi Crown Prince Mohammed bin Zayed Al Nahyan was the chief guest this year. Heavy security is in place after intelligence warnings of a terror attack through air and terrorists disguising themselves as security personnel.
Here are the top 10 updates in this story:
Before the parade PM Modi, wearing a pink safa or traditional turban, paid tribute to Indian soldiers at Amar Jawan Jyoti and India Gate. Early on Thursday he tweeted, "Republic Day greetings to everyone."
President Pranab Mukherjee and the Chief Guest arrived together for the parade flanked by Rashtrapati Bhawan's mounted cavalry.
After the Indian flag was unfurled along with a 21-gun salute, the President presented gallantry awards to soldiers who died fighting for the country.
The parade started with four Mi-17 helicopters flying the flag and three other helicopters with ensigns of the Army, Navy and Air Force showering flowers.
Parade Commander Lieutenant General Manoj Naravane and his second-in-command, Major General Rajesh Sahai paid respects to the President, the Supreme Commander of the Armed Forces.
The Indian Air Force performed a spectacular flypast of 27 aircraft. India's indigenous Light Combat Aircraft Tejas made its debut.
Security agencies have also been warned that some terror outfits are planning attacks using aeroplanes carrying personnel and weapons on board.
A contingent of the UAE armed forces led the march in the parade.
Colourful tableax of 17 states and six ministries were among the biggest attractions of the parade. PM Modi's "Skill India" dream was depicted in a special tableau.
The government's flagship GST or Goods and Services Tax, the biggest tax reform initiative of Independent India, was also showcased.