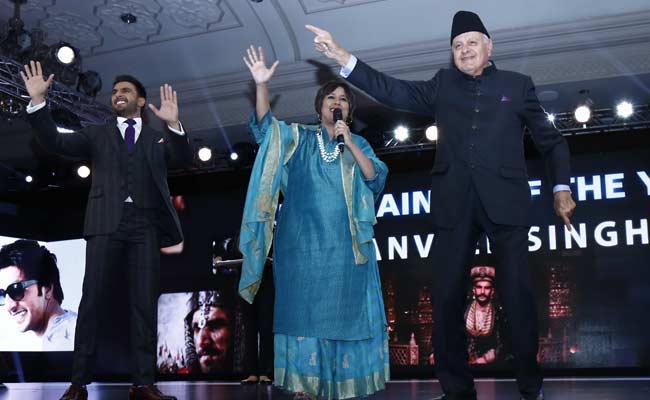 New Delhi:
Actor Ranveer Singh has a rep to protect. So when he checked in for the NDTV Indian of the Year awards on Tuesday evening complete with trademark swagger, a good time seemed guaranteed for all. Turns out, Ranveer was the life of the party - particularly when he went up on stage to receive the Entertainer of the Year award from politician Farooq Abdullah. As a song from his last film Bajirao Mastani played, Ranveer broke into an impromptu jig (as he does). To everybody's delighted surprise, Mr Abdullah joined him. Bigger surprise - Farooq Abdullah, 78, almost out-danced the 30-year-old actor.
Who knew Mr Abdullah could get this jiggy? Watch them here:
Think Farooq Abdullah did good? So did Ranveer. On Twitter, he wrote, "Whattay rockstar. He's too cool for school."
On stage, he suggested that Bollywood's biggest star might be worried if the National Conference leader switched careers. "I think Mr Bachchan would be in trouble if you took to acting," Ranveer told Mr Abdullah. "I would have loved to be an actor but will have to wait for the next life," Farooq Abdullah replied.
The dance party was broken up by NDTV's Barkha Dutt but Ranveer wasn't done yet. Told that his Bajirao Mastani co-star Deepika Padukone had exited the show early to catch a flight to America, he said, "She is on the flight to meet the other taklu," referring to shaven-headed star Vin Diesel, Deepika's co-star in her Hollywood debut,
xXx
: The Return of Xander Cage.
Ranveer, who made his debut in 2010 hit Band Bajaa Baaraat, spoke about making it in Bollywood without the safety net of a filmy family. "The hustle was too long, too many bitter pills to swallow. You have to swallow your pride and have to grovel a bit," he said. Times, however, are changing. "It isn't too far- fetched an idea that someone who doesn't come with lineage or legacy can get a foothold in the industry," said the actor.
Asked about the controversial AIB Roast that he featured in a year ago, Ranveer said, "Wanted to introduce a new form of comedy in India and raise money for charity, so no regrets. When you are so eager to entertain you get strange requests, was once asked by a wealthy man to do a roast."
Ranveer, arguably Bollywood's most flamboyant actor, also said that he takes his work seriously but doesn't take himself seriously - a statement he followed up on Twitter after the show. This was his response to an NDTV tweet pointing out that his 'regular' fatigues at the award show, he had very irregular socks on:

Earlier in the evening, Ranveer declared himself inspired by Big B, saying, "If you are a Hindi film fan, you are an Amitabh Bachchan fan."
Ranveer Singh was seen last year in the well-received
Dil Dhadakne Do
and
Bajirao Mastani,
winning the Filmfare Best Actor Award for his performance as the Maratha leader Peshwa Bajirao I.