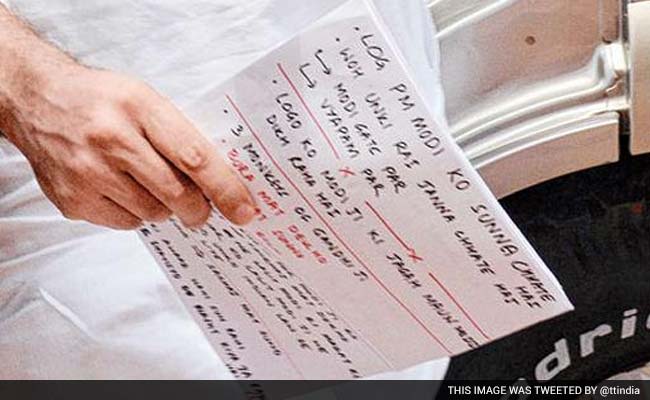 New Delhi:
In Parliament on Wednesday, Rahul Gandhi responded to Foreign Minister Sushma Swaraj's attack with an acrimonious counter that also included digs at Prime Minister Narendra Modi. The Congress vice president apparently made notes of his talking points, which was captured by an alert photographer.
The Telegraph newspaper carried a photo of Rahul Gandhi's cheat-sheet and the scribbles were familiar, all in English. Some phrases were word-for-word what the Congress leader said in the Lok Sabha, for example: "
Log
PM Modi
ko sunna chahte hai. Who unki rai janna chhate hai
..."
Union Minister Arun Jaitley, in a press conference on the wasted monsoon session of Parliament, sniped: "People who read from a written script are often repetitive."
What drew many comments on social media was the fact that Mr Gandhi jotted down his Hindi phrases in English, and that he even made a note of his reference to the "three monkeys of Gandhi."
Rahul Gandhi carries a cheat sheet for even rhetoric .. that too in bold capital letters .. https://t.co/Zvqfvl44cL

- shilpi tewari (@shilpitewari) August 13, 2015
Rahul Gandhi's cheat sheet reminds me of my College days where i could not speak on a presentation without a cheat sheet.

- A. (@akrgsrni) August 13, 2015
What's the big deal if Rahul Gandhi's notes weren't in Devanagari? Why is this an issue? Is personal freedom not a thing anymore?

- WithRahulGandhi (@withrahulg) August 13, 2015
Rahul Gandhi has faced similar ribbing on twitter when he was photographed referring to his phone while writing a condolence message for Nepal earthquake victims.