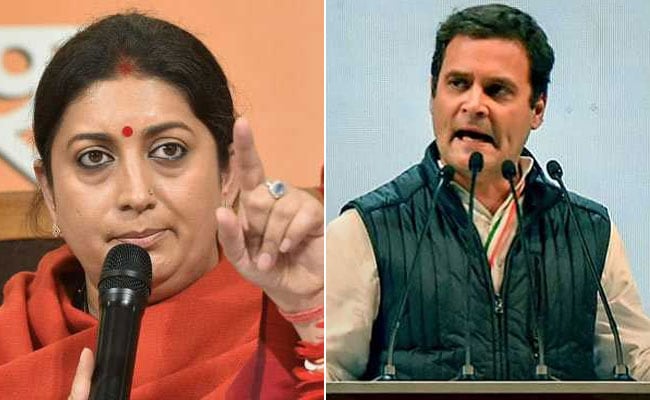 New Delhi:
The Twitter war between the BJP and the Congress got more intense and personal today. As Rahul Gandhi sharpened his attack on Prime Minister Narendra Modi over the data sharing controversy, Union Minister Smriti Irani added cartoons to the mix, saying even "Chhota Bheem" shines, in comparison to the Congress chief.
Rahul Gandhi, who had kept up the pressure in the
data controversy
with a series of three tweets since the morning, said in a post today:
Hi! My name is Narendra Modi. I am India's Prime Minister. When you sign up for my official App, I give all your data to my friends in American companies.

Ps. Thanks mainstream media, you're doing a great job of burying this critical story, as always.https://t.co/IZYzkuH1ZH

- Rahul Gandhi (@RahulGandhi) March 25, 2018
The Congress president also asked to delete the app and followed his tweets with the hashtag DeleteNaMoApp.
"Modi's NaMo App secretly records audio, video, contacts of your friends and family and even tracks your location via GPS. He's the
Big Boss
who likes to spy on Indians. Now he wants data on our children.
13 lakh NCC cadets
are being forced to download the APP.
An hour and half later, Ms Irani responded with a series of tweets:
.@RahulGandhi ji, even 'Chhota Bheem' knows that commonly asked permission on Apps don't tantamount to snooping.

- Smriti Z Irani (@smritiirani) March 26, 2018
The Minister of Textiles and Information and Broadcasting went on to ask the Congress chief if he would care to answer "why Congress sends data to Singapore servers which can be accessed by any Tom, Dick and Analytica", referring to the British firm that was at the centre of a storm for illegally accessing Facebook user data for political purposes.
The Congress denied the allegation that its "WithINC" app shares its data with foreign vendors.
The Congress and the BJP has been at loggerheads over data controversy since the misuse of Facebook data by Cambridge Analytica became public last week. Union Minister Ravi Shankar Prasad
had warned Facebook and Mark Zuckerberg
of strict action including summoning him to India, if any data theft of Indians is done through the social media giant.
Over the weekend, the row reached PM Modi's
narendramodi.in
website.
The BJP has denied the allegations that the NaMo app shares its data with foreign vendors. They claimed the data was being used only for analytics to offer all users the "most contextual content". It also hit out at the Congress, saying the opposition party's app shared data with third parties without consent. By the afternoon, the Congress
pulled down their app
from the Google Playstore - which found mention in a tweet by Ms Irani.
Ye kya @RahulGandhi ji it seems your team is doing the opposite of what you asked for. Instead of #DeleteNaMoApp, they have deleted the Congress App itself pic.twitter.com/NrbMxz57gs

- Smriti Z Irani (@smritiirani) March 26, 2018
The Congress said they took down the app because it was "dysfunctional" and that all memberships were done through the party's official website.
The
war of words
and the many references to cartoon characters and TV shows were not just limited to Ms Irani and Mr Gandhi. Amit Malviya, BJP's national Information and Technology in-charge, also alleged that the Congress shares its data with foreign vendors.
Divya Spandana, Social Media & Digital Communications of the AICC, countered the claim and called Mr Malviya a "dimwit".
Congress' Randeep Surjewala countered Smriti Irani on Twitter by saying Bheem was righteous and also took a jibe at her saying that "those who persecuted Rohith Vemula" can put up such arguments.