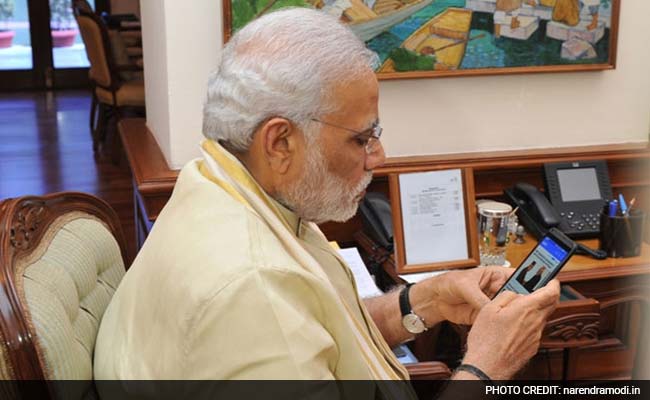 New Delhi:
The National Cadet Corps is collecting mobile numbers and email IDs of nearly 13 lakh cadets across the country so that it can be given to the Prime Minister's Office as PM Narendra Modi wants to directly interact with them. The cadets are also being asked to install the Narendra Modi app on their smartphones ahead of a planned interaction with the prime minister soon.
The initiative has led to a backlash on Twitter, as it comes at a time when issues such as data privacy and consent are making headlines because of data mining firm Cambridge Analytica's alleged involvement in the US and Indian elections. On Friday, #DeleteNamoApp was one of Twitter's top trends.
A letter dated March 2 was sent by the NCC Directorate, Delhi, to those schools in the national capital which are enrolled in the NCC programme. The letter states: "The Honourable PM Shri Narendra Modi has desired a direct interaction with maximum cadets of NCC. This is feasible by downloading 'Narendra Modi App' in the cell phones of the cadets. Mid-March has been fixed for inviting the questions, queries and suggestions from the cadets via 'Modi App' directly to the PM."
The letter also asks the schools to send the names, mobile numbers and email addresses of the cadets. In case the cadets don't have a phone, their parents' numbers should be mentioned and if they don't have an e-mail id then it should be created with the help of NCC staff.
It is not mandatory for cadets to install the app but compelling them to get involved in this manner is attracting critics, many of whom are calling this a medium of propaganda since the NaMo app is not a government entity but one that belongs to PM Modi and the BJP. The registration details of the app on the Google Play Store clearly state: "Offered By NarendraModi.in" and the address given is that of the BJP office - "Bharatiya Janta Party, 11 Ashoka Road, New Delhi 110001."
The app is further described as, ".....all about staying updated with PM Modi's activities, volunteering, connecting with like-minded volunteers and contributing in your interest."
In the Frequently Asked Questions section it says: "No, Namo app does not store your credentials or personal data related to your social media accounts, except for name and ID that too after you have specifically given permission...the data you provide on the app is strictly private, housed safely and not passed on to anyone else."
The NaMo App appears before official PMO app when searched for "Prime Minister App" on Google play store.
Congress national spokesperson Jaiveer Shergill objected to the move and said, "This government has a history of misusing and leaking data. The Prime Minister does not own the personal details of these cadets. He needs to answer under which authority, for which purpose and rule of law did he ask for these details. This government does not believe in data privacy and it has been evident in the way Aadhaar data has been leaked repeatedly. At a time when he should implement right to privacy and bring in data protection laws he is doing the opposite by obtaining data without consent."
Digital rights activist and founder of MediaNama, Nikhil Pahwa said, "It is not right to ask people to download the NaMo app since it is a private entity. There needs to be a clear distinction between the PMO app which is a public asset and the NaMo app which belongs to Narendra Modi. If the Prime Minister wants to interact with the cadets other ways like video conferencing can be used. It should be purely a matter of choice for the citizens whether they want to download the app or not."
The date for interaction of all the cadets with the PM has not been fixed yet. Letters like these have been sent from all state directorates of NCC to schools and colleges on the orders of DG NCC Lieutenant General BS Sahrawat. When NDTV tried contacting Lieutenant General BS Sahrawat, he remained unavailable for comment. A detailed questionnaire has been sent to NCC as well as the Prime Minister's Office for a response. This story shall be updated when they respond.
NCC is the largest voluntary uniformed youth organisation in the world and currently has 13 lakh cadets on its rolls. In Delhi, nearly 40,000 school and college students are a part of NCC.