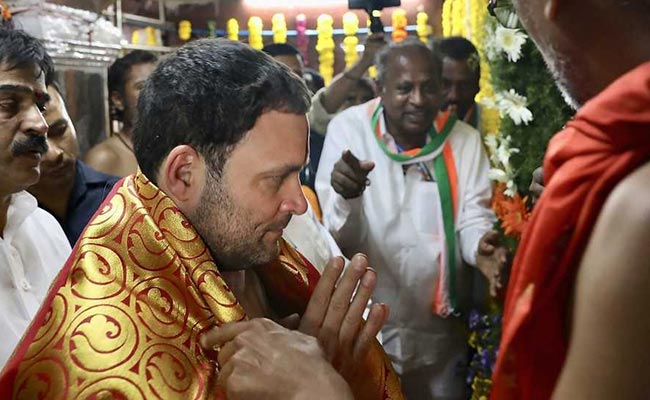 Koppal:
As he blew the election bugle in poll-bound Karnataka today, Congress President Rahul Gandhi embarked on temple visits in a replay of his Gujarat style election campaign.
Mr Gandhi launched the Congress campaign at a rally at Hosapete in Ballari district, as he undertook a four-day tour of northern Karnataka to drum up support for the party in the coming assembly polls.
The first stop of his convoy was the Goddess Huligamma temple in Koppal district.
It is a famous temple in the region.
Mr Gandhi's high profile air conditioned caravan with extra-ordinary security arrangements, elicited response from many curious onlookers and passers-by.
While travelling from one temple to the other, he stopped at certain places and spoke to some Congress workers waiting with party flags to greet their leader.
They stood on both sides of the road to have a glimpse of the scion of Nehru-Gandhi family and cheered on seeing him.
He too responded enthusiastically.
Chief Minister Siddaramaiah, State Congress president G Parameshwara and Karnataka energy minister D K Shivakumar accompanied him, besides a host of Congress leaders.
At the centuries old temple, Mr Gandhi worshipped the deity even as hundreds of people stood outside to get a view of him.
The priest applied vermilion on his forehead and garlanded him.
After coming out, Rahul Gandhi shook hands with the curious onlookers and spoke to a few of them.
The next destination of the "Janaashirvada Yatra" bus was Gavi Siddheshwara Mutt in Koppal, a mutt of the majority Lingayat community.
He was greeted there by Gavi Siddeshwara Mahaswamiji, who garlanded him on his arrival.
A large number of people were present to see him.
Students of the Mutt gave Rahul Gandhi roses and shook hand with him.
He also paid homage to the swamis of the past at their tomb.
Later speaking to reporters, Mutt students expressed happiness over meeting Mr Gandhi.
"Rahul Gandhi spoke to us in English. He inquired about our studies. We are very happy after meeting him," said a student.
He wound up his whirlwind tour by addressing a public gathering at Kukanuru in Koppal.
Meanwhile, Lok Sabha member Shobha Karandlaje questioned Mr Gandhi's temple and Mutt visits and asked him to reveal his true belief.
She tweeted, "Election Hindu Rahul Gandhi is on his temple/Mutt visit in Karnataka I would like to know What is his true belief? Gimmick of visiting temples can't be used to fool Hindus, Congress Government in power has been blatantly Anti Hindu."
'Election Hindu' is the coinage devised by the Karnataka BJP, mocking his visits to temples, saying it was prompted by elections.