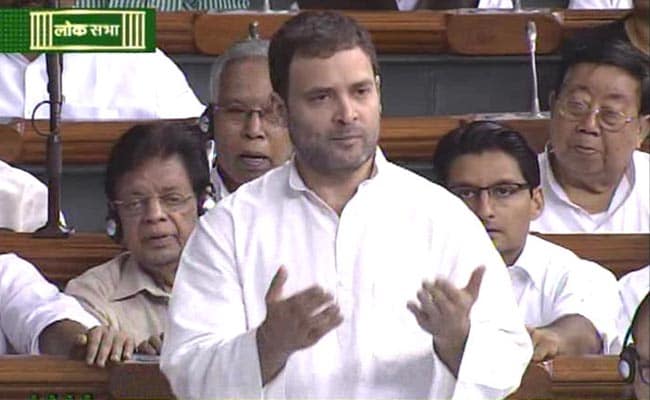 New Delhi:
Rahul Gandhi accused the government of "carving out the internet to hand over to corporates" on Wednesday. He compared Prime Minister Narendra Modi to former Soviet Union chief Mikhail Gorbachev. And if you didn't quite get it, he stepped out of the Lok Sabha to explain.
In the evening, he was among the first in a line of politicians to reach the hospital where a farmer who committed suicide at a rally in Delhi was taken. The Congress vice president ripped into the Modi government, this time over what he calls its anti-farmer policies.
From land rights on Monday to net neutrality on Wednesday, Rahul Gandhi has also chosen to be the Congress's main voice in Parliament this week. Yesterday's speech in the Lok Sabha was his second in three days. Compare that to his earlier record - he spoke all of three times when the UPA was in power from 2004 to 2014.
After a 57-day break, is this Rahul Gandhi version 2.0?
Congress MPs who had a tough time explaining his leave of absence, extended several times at a time when a crucial Budget Session was on, seem upbeat to see his new
avataar
. "The government seemed rattled. When he spoke today, three ministers intervened. First Nitin Gadkari intervened, then Ravi Shankar Prasad spoke and then finally Venkaiah Naidu. His interventions will give a boost to our workers," said Gaurav Gogoi, a young Lok Sabha member from Assam, who's believed to be part of Team Rahul.
Ravi Shankar Prasad, the Information and Technology Minister, strongly countered Rahul inside the Lok Sabha and outside, on net neutrality.
Speaking to NDTV later, Mr Prasad alleged, "Rahul Gandhi doesn't do his homework." He also seemed to acknowledge Mr Gandhi's new political energy when he said, "Even before Rahul Gandhi got active, I have been active and referred this matter of net neutrality for examination in January."
The Congress is clearly keen to repackage brand Rahul Gandhi. An aggressive Rahul in Parliament is perhaps only a part of a larger political strategy.
Sources say the congress vice president could soon travel across the country to campaign against the Modi government. But that plan is yet to be finalised.