Bengaluru:
Congress president Rahul Gandhi will embark on a two-day extensive
election campaign in Karnataka
from tomorrow with his itinerary including places covered recently by
BJP national president Amit Shah
.
Mr Gandhi will travel to Shivamogga, Davangere, Chitradurga, Tumakuru and Ramanagar district on April 3 and 4 in his fifth round of
campaigning
in
poll-bound Karnataka
.
Besides holding a public meeting, he would also call on Shivakumara swamiji of Siddaganga Math, who turned 111 on Saturday, as per the programme details released by the party.
On April 3, the Congress president would meet people at Bus Stand Chowk and address a public gathering in Shivamogga.
He will then visit Honnalli, Harihara and Bathi towns in Davangere district.
Mr Gandhi would also hold a public meeting at Davangere town.
The next day, the Congress chief would visit Holalakere in Chitradurga district and address a gathering.
He would then travel to Siddaganga Math in Tumakuru district.
Mr Gandhi would meet people in Kunigal town and would conclude another round of campaigning by addressing a public campaign at Magadi in Ramanagar district before leaving for Delhi.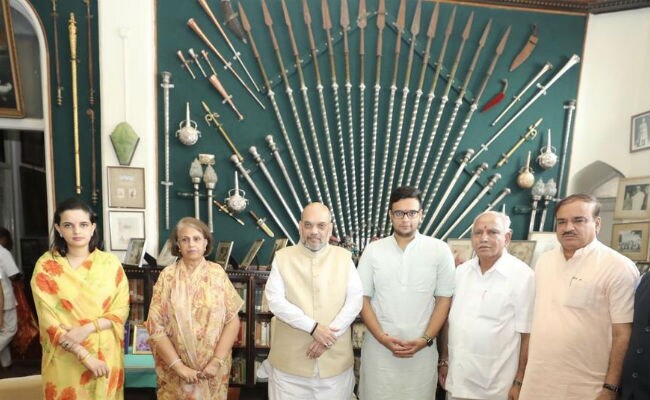 BJP chief Amit Shah
had toured these places on March 26 and 27.
Touring Karnataka extensively, Mr Shah has completed four rounds of campaign in the run-up to the May 12 assembly polls.
He launched the 'Karunadu Jagruti Yatre' in Shivamogga Town, held a public meeting at Gopi Circle, launched 'Mushti Dhaanya Abhiyan' (campaign for fistful of grain) in a village in Davangere and then addressed a public gathering at Chalkere in Chitradurga district.
Mr Shah had also called on Shivakumara Swamiji and sought his blessings.
In February, Mr Shah had addressed a public gathering at Holalakere.
Against the backdrop of Karnataka government according religious minority tag to Lingayats ahead of the assembly polls, BJP as well the Congress launched an extensive drive to woo the Lingayats, who are numerically and politically strong in Karnataka.
Mr Gandhi's meeting with Shivakumar Swamiji is aimed at strengthening his party's base among Lingayats.
While Shivamogga and Davangere have substantial Lingayat population, Chalkere and Holalakere in Chitradurga are dominated by tribals, Dalits and other backward castes.
Get Breaking news, live coverage, and Latest News from India and around the world on NDTV.com. Catch all the Live TV action on NDTV 24x7 and NDTV India. Like us on Facebook or follow us on Twitter and Instagram for latest news and live news updates.