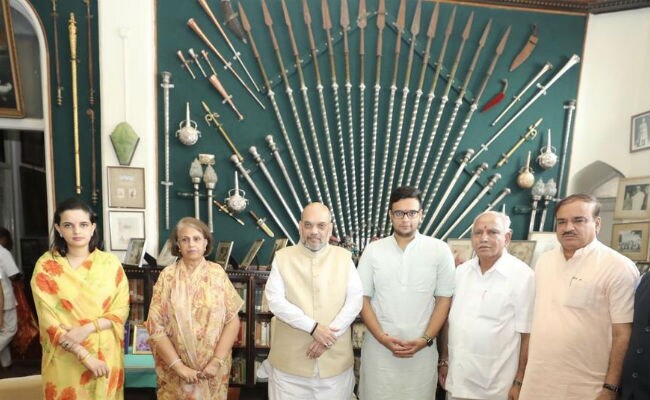 Highlights
Amit Shah toured Mysuru to seek support for BJP's agenda of development
The region sends 26 lawmakers in the 225-seat assembly
He visited Suttur mutt, met royals and dalit leaders
Mysuru:
It may not have been a smooth road in Karnataka for Amit Shah in recent days but the 53-year-old BJP president appeared to have moved on. On Friday, he stepped into Chief Minister Siddaramaiah's home turf, old Mysuru, to seek support for the BJP's agenda of development. But he had a message for the Chief Minister too. Mr Shah spoke about the perception that the BJP was "bit weak" in the old Mysuru region and promised to deliver "the biggest shock".
The region sends 26 lawmakers in the 225-seat assembly. In the 2013 elections, the BJP had, however, drawn a blank from these seats across four districts that have voted the Congress or Janata Dal Secular for years. Mr Shah, who is leading the BJP's offensive against the Congress government from the front, promises to change this.
Mr Shah's sharpest attacks are reserved for the ruling Congress and the attempt is to get people who want the ruling party to lose, to support the BJP and not the Janata Dal Secular led by former Prime Minister HD Deve Gowda.
It is the BJP and not the JD(S), which has the ability to throw out the Siddaramaiah-led Congress government as Deve Gowda's party would only secure "a very few seats here and there", Mr Shah told a meeting of supporters later in the evening.
Mr Shah had started his two-day tour early on Friday with a visit to the Suttur Mutt, a 1,000-year-old institution with followers from not just Lingayats and Veerashaivas but beyond. It is also said to run over 400 educational institutions.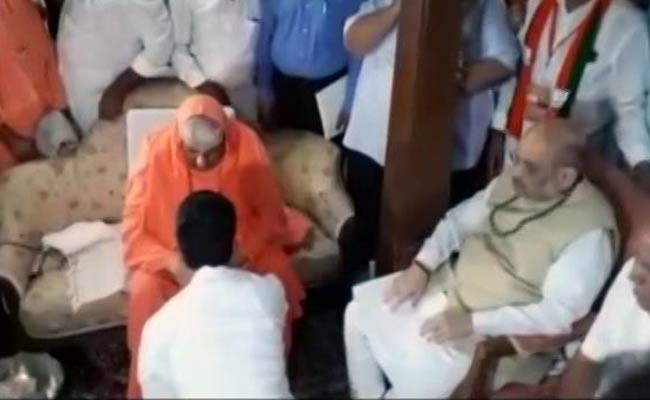 A meeting with the erstwhile royal family of Mysuru, the Wadiyars, was next. Mr Shah had photo-ops with three generations of the family, Rajmata Pramoda Devi Wadiyar to Yuvraj Adyaveer Narasimha Wadiyar. He reportedly offered Maharaja Yaduveer Krishnadatta Chamaraj Wadiyar and also the Rajmata a BJP ticket. That suggestion was, however, politely declined. The former royals only agreed to consider whether they could join the campaign in some manner.
But his outreach to Dalits leaders in the Vokkaliga heartland didn't pan out on expected lines.
Slogans were raised against Union Minister Anant Kumar Hedge
, the BJP's five-term Lok Sabha lawmaker who had spoken about changing the Constitution and compared Dalits and secular people to street dogs. Many Dalit intellectuals had interpreted his comment to change the Constitution to imply that reservations may be done away with. It took some coaxing and managerial skills to bring order.
Amit Shah later also met the family of Raju, an RSS worker who was killed two years ago, and held the Congress government responsible for Raju's killers continuing to walk free.
"More than 24 people have been killed... killers are going around free... we will spare no one... Siddaramaiah's time is over... we will ensure justice is done," he said.
That meeting turned controversial too with Karnataka Congress chief Dinesh Gundu Rao alleging that the BJP president had given a 5 lakh rupees cheque to Raju's mother violating the model code of conduct.
Mr Shah also spoke on his much-talked about slip in Karnataka, which embarrassed his party's chief ministerial candidate BS Yeddyurappa,
but was able to turn it around to take aim at the Congress
. "In a slip of tongue, I said that the
Yeddyurappa government is corrupt
instead of Siddaramaiah's, and the entire Congress party started to rejoice. I want to tell Rahul Gandhi that I might have made a mistake but the people of Karnataka will not," the BJP chief said.
Earlier, Mr Shah also had to face the embarrassment of a senior pontiff Chitrudurga's Shri Muruga Math giving him a letter that endorsed the rival Siddaramaiah government's push for minority tag to Lingayats. That letter is seen as a success of the Congress government's strategy to secure support from at least some Lingayats, a powerful so-called upper caste group in Karnataka that supported the BJP for 30 years. They are believed to form 17% percentage of the state's population.