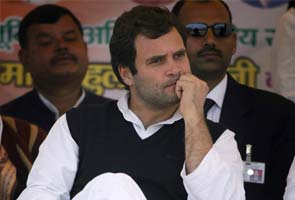 New Delhi:
Rahul Gandhi on Friday sent clear signals of introducing a performance-based "reward and punishment system" in Congress to tone up functioning of the organisation ahead of the Lok Sabha polls.
At an interaction with PCC chiefs and CLP leaders in New Delhi, he also said that there is a need for "fixing some definite criteria for ticket distribution".
The Congress Vice President deprecated the tendency of groupism, asking partymen to shun it and make earnest efforts to connect with people.
"Rahul Gandhi said that both reward and punishment will follow. Those working seriously should be rewarded. Tasks will also be given. He said you set three, four commitments for yourselves and I will see after sometime whether you have fulfilled them or not," a state leader, who attended the meeting, said.
The remarks are significant as Mr Gandhi has often talked about absence of rules and regulation and work culture in the party.
Mr Gandhi also told the state leaders that they should not work only from election point of view but also aim to strengthen the organisation. He said this while intervening
during an interaction with the PCC chiefs and CLP leaders, which saw a total of 32 leaders expressing their views on the first day of the two-day exercise.
"Everybody must realise his weaknesses and accept that.We can progress only then," he said during the interaction, which also involved issues like that of alliances in states, early resolution of Telangana row, how to cope with regional parties and strategy to counter Narendra Modi's media campaign.
Amid demands for a formulating a strategy by Congress to counter Gujarat Chief Minister media campaign, Mr Gandhi said that if the party workers are vocal, then there will be not much need to counter such campaign on television or media.