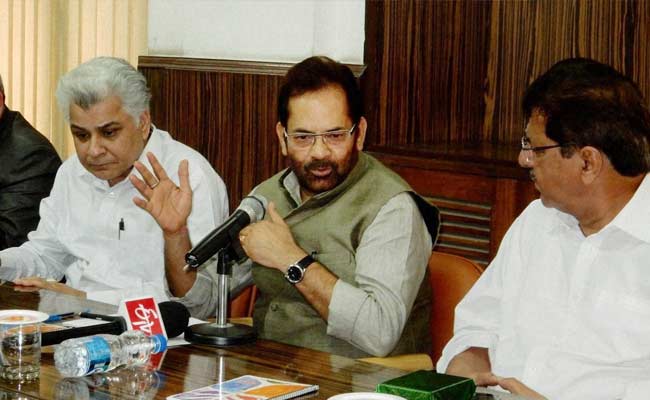 Rampur, Uttar Pradesh:
Union Minister Mukhtar Abbas Naqvi today accused Congress Vice President Rahul Gandhi of trying to "create gulf" in the society over the alleged suicide of a Dalit scholar at Hyderabad Central University and said no minister is going to resign.
The Union Minister of State for Minorities Welfare also said that Mr Gandhi was "politicising" the student's death.
Mr Naqvi slammed the Congress leader for trying to "create gulf in the society" on the pretext of the suicide of the scholar when a probe was already in progress.
"It is most unfortunate to generate storms for political gains and that too by a pivot of the political outfit which was thrown out of power by almost the entire nation," he said.
"No minister is going to resign as the hue and cry being generated by disappointed opposition politician (Rahul) was a proof of immense intolerance, and an undesired attempt to divide the society on the basis of casteism and communalism," Mr Naqvi added.
Congress vice president and his associates
by adopting "cheap politics have an inclination to create hurdles in the development programs launched by National Democratic Alliance government as they have done in recent session of Parliament," the union minister said.
Rohith Vemula, who committed suicide
on Sunday night, was among the five research scholars who were suspended by Hyderabad Central University in August last year and also one of the accused in the case of assault on a student leader.
They were also kept out of the hostel.
The minister also clarified on the demand for
minority status for Aligarh Muslim University
saying, "AMU is a central institution and the matter in this regard was pending in the court hence raising the issue on various forums by different forces was beyond reason and against the spirit of the law."
He stated that there were 12,000 registered minority institutions in India and out of that 2600 alone were in UP while double of the said figure existed as unregistered institutions and, protection and assistance as per constitutional provisions was being provided for the welfare of the minority communities.