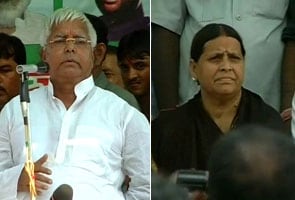 Patna:
Lalu Prasad's wife Rabri Devi has said she and her son will run his party, the Rashtriya Janata Dal or RJD, like "Sonia Gandhi and Rahul Gandhi run the Congress." But Mr Prasad has reportedly sent word from the Ranchi jail he is lodged in that there is no plan yet to appoint an interim leader.
Senior RJD leader Prabhunath Singh said today that Lalu being sent to jail in a fodder scam case will "not impact party functioning." Mr Singh, who met his party chief in jail, said Lalu has ordered party leaders to hold a meeting next week to discuss holding its cadres and vote bank together in his moment of crisis.
Mr Prasad was convicted on corruption charges by a Jharkhand court yesterday. He will be sentenced on Thursday and could be handed a jail term of at least four years. He will be disqualified from the Lok Sabha and, more significantly for his party, will not be able to contest next year's national election, and even the one after that.
RJD leaders indicated that Rabri was the natural choice to lead the party in his absence. "Rabri Devi is our leader. She is still there to guide us," party General Secretary Ram Kripal Yadav said.
54-year-old Rabri Devi has two sons - Tej Pratap Yadav and Tejasvi Yadav. Tejasvi, 24, is seen as Lalu's political heir; he accompanied his father to the Ranchi court yesterday. Today he said, "Rabri Devi and other
netas
will run the party."
Tejasvi seemed to indicate yesterday that he is ready to step in too when he said, "We will fight the fodder scam verdict electorally." But many say it is too early for any of the younger Yadavs to take on a bigger role, though Lalu had presented his sons as the future face of the party at a mega rally in May this year, which was billed as his comeback show of strength.
While Tej Pratap runs an automobile business in Aurangabad, Tejasvi is a former cricketer who was once also part of the Delhi Daredevils IPL team.
Rabri Devi was a reluctant entrant into politics in 1997 when she became the chief minister of the state, chosen by Mr Prasad to replace him when he had to resign after he was charged in the fodder scam. She served as chief minister again from 1999 for about a year and then again from 2000-2005.