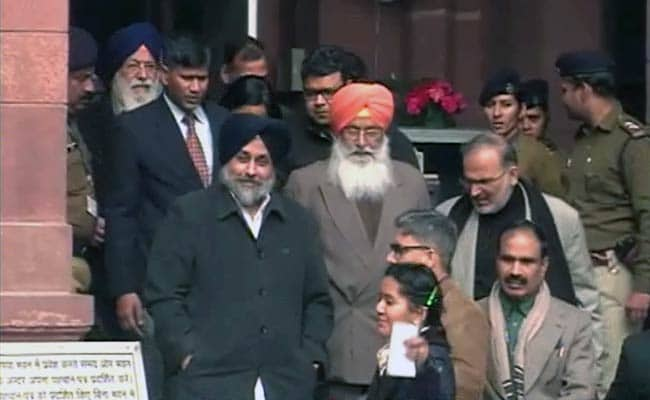 New Delhi:
Punjab Deputy Chief Minister Sukbhir Singh Badal met Home Minister Rajnath Singh on Thursday and sought the release of those Sikh detainees who have completed their minimum jail term and therefore can be considered for premature release.
The request is in line with a recent one from his father, Punjab Chief Minister Parkash Singh Badal, who sought the release of 13 convicted Khalistani terrorists.
The home minister is believed to have assured Mr Badal that the plea would be considered, but within the framework of the law.
"We have clarified that the concession, if any, will have to be within the framework of the law," a senior official told NDTV, indicating that the Centre is not too keen to accede to request of the Punjab government.
The Badals' party, the Shiromani Akali Dal, is an ally of the BJP both at the Centre and the state. The Deputy Chief Minister's wife Harsimrat Kaur is a Union Minister. But Thursday's meeting is seen as yet another attempt by the SAD to bring pressure on the BJP.
The ruling combine in Punjab is reportedly under strain, with the leaders of each party willing to walk away from the alliance. The row over the release of prisoners is viewed as a manoeuvre in that direction.
So was the SAD's recent rally on drugs, in which the Junior Mr Badal had blamed the Centre for the porosity of the border, which, he said, allowed the narcotics trade to flourish in India.
Last December, the Punjab Chief Minister had written to the governments of five states and two Union Territories, seeking the release of 13 convicted terrorists, including two serving term for the assassination of former Punjab Chief Minister Beant Singh in 1995.
On Thursday, the Deputy Chief Minister said the Congress, when it was in power, had released convicted Khalistani terrorists including Wassan Singh Zaffarwal and Dr Sohan Singh.
He also questioned how members of the banned United Liberation Front of Asom and former Kashmiri separatist leader Sajjad Lone had been allowed to join mainstream politics.
"We are requesting for a sympathetic view for some of the convicts who have spent over 25 years (in jail) and some of them even lost their eye sight in old age," he said.