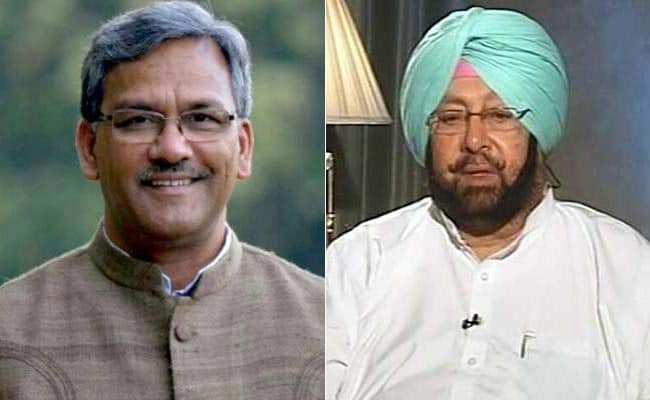 New Delhi:
The new Chief Ministers of Punjab and Uttarakhand are in New Delhi today in their maiden visit to the capital after assuming office. On separate appointments, Punjab Chief Minister Captain Amarinder Singh and Uttarakhand Chief Minister Trivendra Singh Rawat will meet PM Narendra Modi at his Parliament House office this afternoon and President Mukherjee at Rashtrapati Bhawan in the evening.
Mr Rawat met Union Home Minister Rajanth Singh in the morning.
The former 'Maharaja' of the erstwhile princely state of Patiala will also call on the top central leadership, including Union Finance Minister Arun Jaitley at his residence in the afternoon. He is likely to seek help and cooperation of the Centre in granting more funds to Punjab.
The Captain, as he is popularly known, led the victory of the Congress in Punjab, netting 77 of 117 seats in the assembly elections. Soon after taking charge last Saturday, he ordered the removal of red beacons from all government vehicles, including his own. The Punjab Cabinet announced an end to the use of red beacons on official vehicles by the Chief Minister, ministers, legislators and officers.
Mr Rawat, who was sworn-in as the ninth Chief Minister of Uttarakhand last Saturday after BJP's landslide win in the assembly polls, arrived here yesterday evening. The BJP won 57 of the 70 seats in assembly.
On Tuesday, it was the turn of Uttar Pradesh Chief Minister Yogi Adityanath to meet the PM and the President. CM Adityanath also met BJP chief Amit Shah. The duo discussed allotment of ministries.
(With inputs from PTI)