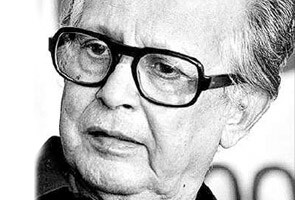 Pune:
Eminent cartoonist R K Laxman was "comfortable" after undergoing a small procedure at the Military Command hospital in Pune, family sources said on Monday.
The doctors removed a tube that had been inserted in Laxman's nose while he underwent treatment in a Mumbai hospital about two and half months back after suffering multiple strokes, sources said.
The 86-year-old cartoonist was "comfortable" and was expected to be discharged soon, they said clarifying that he had not suffered fresh stroke when he was admitted to the hospital on Saturday.
Laxman's work which spans over six decades chronicled India.
He is best known for his fearless lampooning of politicians, from Jawaharlal Nehru and Indira Gandhi during the repressive days of the Emergency, to Vajpayee and other leaders.
The Magsaysay award winner had suffered a stroke six years ago which affected the left portion of his body. He was doing fine since then and residing at his Pune residence.
Laxman has been honoured with the Pamda Vibhushan.