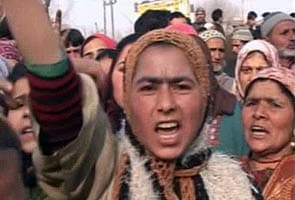 Baramulla:
There have been massive protests in Baramulla district of north Kashmir today after a 22-year-old man was killed allegedly in firing by the Army.
Ashique Hussain, a resident of Lesar village in Rafiabad area of Baramulla district, was killed outside his house at around 9 pm on Friday during firing by security forces. Protestors are blocking the Kupwara- Baramulla highway. They have refused to bury the body of Hussain demanding the arrest of the Army personnel allegedly involved in the killing.
The Army had earlier today said that it was an incident of mistaken identity. However, Lieutenant General SA Hasnain, 15 Corps Commander, Srinagar, later clarified that it was not a case of mistaken identity, but of accidental discharge of a bullet.
"I have just returned from the village. It was not a case of mistaken identity but of accidental discharge of single bullet by a Rashtriya Rifles soldier which led to unfortunate incident. I have already announced that the deceased was innocent. Inquiries have been ordered. Tension defused," Lieutenant General Hasnain said.
Chief Minister Omar Abdullah has said government will inquire into the circumstances in which the boy was killed. "I have received various versions of the incident. We will ascertain the facts and any action will follow after that, "said Mr Abdullah.
The police are now trying to reach out to the family to try and convince them to bury the body.
Minister of State for Home Nasir Aslam Wani and Director General of Police Kuldeep Khoda have reached Baramulla district headquarters and are monitoring the situation.