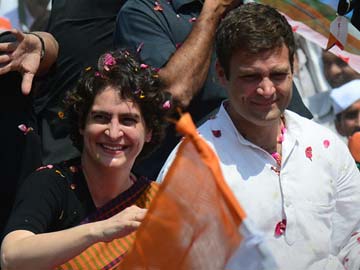 New Delhi:
Priyanka Gandhi Vadra has served legal notice to media organisations for reports that suggested that she was letting her brother Rahul adopt her teenage son so that he could use the Gandhi name and join politics.
"To allege that a parent would willingly pass his/her child on to someone else as if he were an object devoid of emotion is morbid enough, but to ascribe to it the intention of perpetuating some sort of dynastic political aspiration is even more sickening," Priyanka said in her notice.
"This pernicious falsehood is clearly aimed at causing deep offence to my family and is an unacceptable aspersion on my motherhood and on my character," she added.
Priyanka, the 42-year-old daughter of Congress president Sonia Gandhi, has a son, Raihan, and daughter, Miraya, with businessman Robert Vadra.
A newspaper report had claimed that there was speculation within the Congress on whether Rahul Gandhi, the party vice president, was adopting 13-year-old Raihan so that he could use the Gandhi name. The report had also claimed that Rahul Gandhi had been named his guardian in school forms.
Priyanka has called it a "malicious work of fiction."
In August, Priyanka had emphatically denied what she called "conjecture" and "baseless rumours" about her taking a key post in the Congress party.