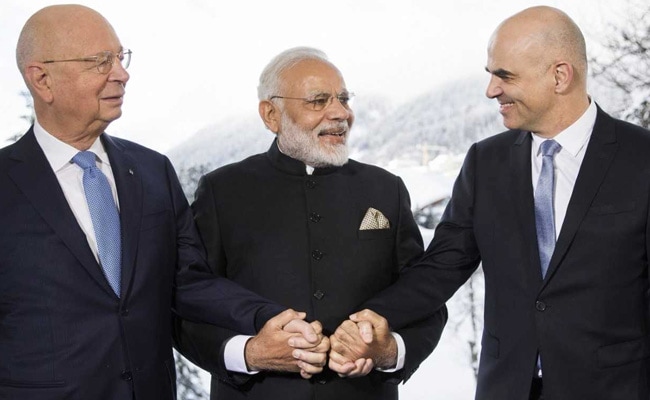 Highlights
Some world powers want to stall globalization: PM Modi in Davos
An example of this is new tariff barriers, he added
The forces of protectionism are rising: PM Modi
Davos/New Delhi:
Prime Minister Narendra Modi addressed the opening plenary session at the World Economic Forum in Davos. The first Indian Prime Minister to attend the session in Davos, PM Modi has pitched India as an investment destination and major driver of global economic growth. In his address, PM Modi also asked the world to unite against what he called the three biggest challenges -- climate change, terrorism and an increased protectionism. The Indian presence this year is the largest in the 48-year history of the World Economic Forum. Nearly 130 industry leaders from India are attending the annual global business event.
Here are Prime Minister Narendra Modi's top five quotes from his address in Davos:
India's GDP in 1997, when the last PM came to Davos, was a little over 400 billion dollars. It has grown 6 times since then.

In 1997 (when the last Indian Prime Minister visited Davos), Euro wasn't in circulation, Brexit hadn't happened, world hadn't heard of Osama bin Laden or Harry Potter.

Social media is a big example of how technology is being used to join, bend and break our world.

Technology is assuming immense importance in this era. It is said that one who controls data will control the world

Everyone talks of an inter-connected world but globalisation is losing its sheen. The forces of protectionism are rising.

Some world powers don't just want to shun globalisation, but they want to stall it. An example of this is new tariff barriers.

India has always believed in values of integration and unity. We in India are proud of our democracy and diversity.

Terrorism is dangerous. Worse is when people say there is a difference between 'good' and 'bad' terror. It is painful to see some youngsters getting radicalised.

Care towards the environment is a part of India's culture. India is giving great importance to renewable energy.

We have pledged to end license raj, we are removing red tape and laying out the red carpet instead. New doors to FDI are being opened. This is why investing in India, travelling to India, manufacturing in India has become much easier than before.