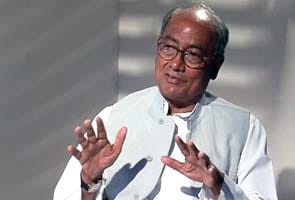 New Delhi:
Congress general secretary Digvijaya Singh today said that Prime Minister Manmohan Singh is the only power centre in the UPA government and that he calls all shots. This comes more than a month after Mr Singh created ripples in the Congress party when he reportedly said that two power centres within the party may be hurting it. Speaking to NDTV, Mr Singh said his previous comments had been quoted and interpreted out of context.
"There has to be one power centre and here, the power centre is Dr Manmohan Singh in governance and for political matters, it is of course Mrs Sonia Gandhi," Mr Singh said, adding that both were the sole powers in their respective domains.
"The perception, the hype of two power centres, has been created by the media and the Opposition party. This perception is wrong. Dr Manmohan Singh takes all decisions in government and Mrs Sonia Gandhi takes all decisions in the (party) organisation," Mr Singh reiterated.
Insisting that Mrs Gandhi has "never interfered in the functioning of the government," Mr Singh added, "Yes, she has suggested the RTI act, she has suggested the NREGA programme, but these are policy matters and this is as per our election manifesto."
Mr Singh's comments early in April about dual power centres had reportedly upset Mrs Gandhi. The Congress had said then that the equation between Mrs Gandhi as head of the party and Dr Manmohan Singh as head of the government is a unique model that could serve the party well in the future.