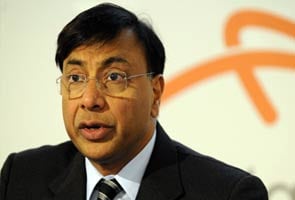 Paris:
Pressure is mounting on Lakshmi Mittal to give up the entire site at Florange in the east of France where the group wants to shut down a part of the site, two furnaces that employ 629 workers. The French government says Mr Mittal will also have to give up the profitable part of the site which employs 2000 workers so that it can be sold to a new buyer. French workers fear Mr Mittal is planning to shut down all sites in western Europe and have been protesting for months. On Tuesday, Mr Mittal called on the French President Francois Hollande, who will have the final word in the dispute.
French workers from the ArcelorMittal site in Florange pitched a tent outside the Finance Ministry building in Paris, urging the government to find a way to save their jobs. Saturday is the French government's deadline to find a buyer for the two furnaces Mr Mittal wants to shut down. The anti-Mittal sentiment is running high in France.
Jean Marc Vecrin, a member of a worker's union from the Florange site says, "This gentleman thinks only of money. He is an investor who just wants to make money at the expense of all the rules we have here in Europe. It's a pity for your country, for India's image. We have nothing against India or Indians but what Mr Mittal is doing is unacceptable."
The French Minister of Industrial Recovery, Arnaud Montebourg, earlier announced that a potential buyer had been found but Mr Mittal will have to give up the entire site. He also threatened that a temporary nationalisation was possible in order to keep the site open till a buyer was found.
Montebourg earlier made personal attacks on Mr Mittal accusing him of lying and of not respecting France. He said ArcelorMittal should leave France.
However Laurence Parisot, the head of France's biggest employers union, has come out in Mr Mittal's defence, saying the govt's handling of ArcelorMittal is scandalous. She said the call for nationalisation amounted to blackmail.
If Mr Mittal gives up the entire Florange site, it will be seen as a huge victory for President Hollande, who has always accused former President Nicolas Sarkozy of failing to deal with ArcelorMittal with an iron hand. There have been a number layoffs and shutdowns announced in France this year. The French government is struggling with unemployment records that have hit a 14 year high. The aggressive battle against Mr Mittal, who is seen as an outsider in France, has become a symbolic one despite the fact that his group employs 20,000 workers in France.