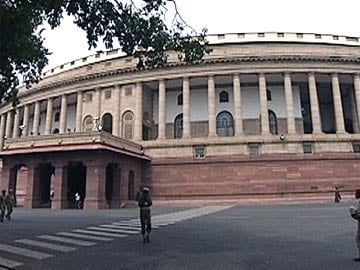 New Delhi:
President Pranab Mukherjee will address a joint sitting of Parliament on Monday, laying the roadmap of the new government headed by Narendra Modi.
In his address beginning at 11 am in the Central Hall of Parliament, the President will list the priorities of the NDA government which include ushering the economy on the path of fast and all-round growth besides tackling price rise and inflation.
Both Lok Sabha and Rajya Sabha will have separate sittings 30 minutes after the conclusion of the address and the Secretaries General of both the Houses will table a copy of the speech.
The new government is confronted with some key issues like price rise, fiscal deficit and economic slowdown.
Measures to address other issues like putting the core sectors on the fast growth path and ushering in industrial development in the country, besides attracting foreign investment are also likely to figure in the President's address.
The Lok Sabha and Rajya Sabha will hold a discussion on the Motion of Thanks on the President's address on Tuesday and Wednesday according to the provisional list of business in the Houses.
On behalf of the ruling party, while BJP Vice President Mukhtar Abbas Naqvi will initiate the discussion in Rajya Sabha, party General Secretary Rajiv Pratap Rudy will do so in the Lok Sabha.
Sources in the government said Prime Minister Narendra Modi may intervene during the discussion on the Motion of Thanks in Lok Sabha and Finance Minister Arun Jaitley may do so in the Upper House.