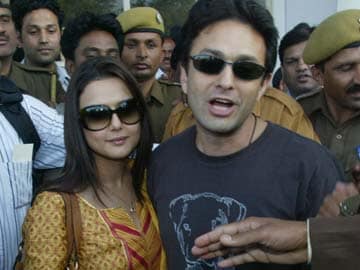 Mumbai:
Bollywood actor Preity Zinta, who has accused her ex-boyfriend, businessman Ness Wadia, of manhandling, abusing and threatening her last month, has begun recording her statement at a stadium in Mumbai where the incident allegedly took place.
The police wanted to record Ms Zinta's statement at the Wankhede stadium so that they can write a spot report too.
Sources close to the actor had said that the 39-year-old was keen on recording the statement at her home in Bandra. Ms Zinta had returned from the US on Sunday night.
Ms Zinta had filed a police complaint on June 12 accusing Mr Wadia, 44, of abusing her after the pair got into an argument while watching their team, Kings XI Punjab play the Chennai Super Kings on May 30 in the Indian Premier League semi-final.
In her complaint, Ms Zinta has claimed, "I left for my seat, but he (Ness) came up to me at my seat and started screaming and abusing me in front of everyone."
Mr Wadia has called the allegations "totally false and baseless". He and Ms Zinta ended their five-year-old relationship in 2009 but continue to co-own the IPL team. (
Amid Dispute With Ness Wadia, Preity Zinta Rules out Selling Kings XI Stake
)
Last week, Mr Wadia alleged in a police complaint that his company received threatening calls and texts from an underworld gangster who allegedly referenced the Bollywood star.
The caller identified himself as fugitive underworld don Ravi Pujari, the police said. A threatening message allegedly warned the Wadias against troubling Ms Zinta.
The police have provided Mr Wadia with security after his complaint.(
Security for Ness Wadia After threat Calls That Referenced Preity Zinta
)
Get Breaking news, live coverage, and Latest News from India and around the world on NDTV.com. Catch all the Live TV action on NDTV 24x7 and NDTV India. Like us on Facebook or follow us on Twitter and Instagram for latest news and live news updates.