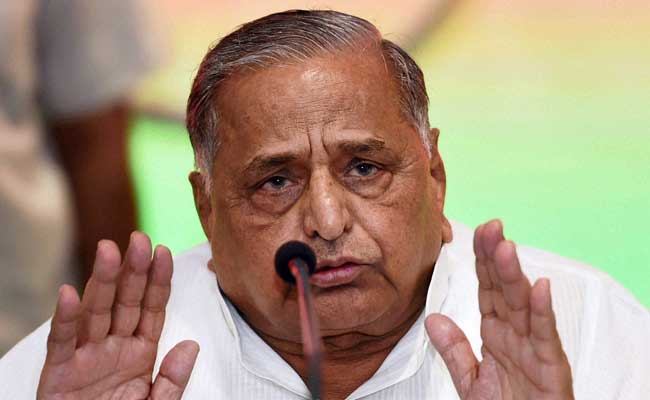 Highlights
Former Chief Minister's home in constituency fails power inspection
Home was using 8 times more power than allowed
Unpaid bill of 4 lakhs to be cleared by end of month
Lucknow:
A heated swimming pool, several elevators, a mini-AC plant that helped keep the sprawling home temperature-controlled - these are contributing factors for Mulayam Singh's home over-drawing its share of power in his constituency of Etawah in Western Uttar Pradesh.
Yesterday, three cars with a dozen officials from the power department pulled into Mulayam Singh Yadav's home, which now has around 12 bedrooms after being remodeled last year. They carried out a spot check. "We are conducting a drive to stop power theft, check overloading and recover dues," said Ashutosh Varma, who led the raid. "The house had a 5 kW connection while it needed a 40 kW line," he said.
Mulayam Singh, 77, was in Lucknow, when the officers discovered that the sanctioned limit of 5 kW was being busted eight times by his home. The former Chief Minister also owes 4 lakhs in unpaid bills for this property and has been given till the end of the month to make the payment.
Officials changed the configurations to allow him 40 kW - the amount that's being consumed now - but he will have to pay for the larger allotment.
The raid was part of the 'No VIP' emphasis of Yogi Adityanath's new government in Uttar Pradesh. Mulayam Singh's Samajwadi Party was in power till March, when the BJP, led by Prime Minister Narendra Modi, won the prize state with the biggest mandate in nearly three decades.
After taking office a month ago, Yogi Adityanath has made it clear that his administration will focus on curtailing the rampant corruption that is synonymous with Uttar Pradesh. He has also pledged to cut the "goonda raj" or lawlessness that he says flourished during the governments of Mulayam Singh, his son Akhilesh Yadav, and their political rival Mayawati.