New Delhi:
When Archana Ramasundaram made it to the police academy in Hyderabad in the Indian Police Service batch of 1980, she was the only woman in her class. The situation, she says, was 'awkward' sometimes because she was the only woman around. When Ms Ramasundaram was named the first woman to be a paramilitary chief, the only headlines were about her gender. She took over today.
"It shouldn't matter but it does,'' she said on NDTV's show Agenda, with some of the female staff of Sashastra Seema Bal (SSB) as audience members. "The last chief BD Sharma was my batchmate, so why is it strange that I should get his place three years later?''
In a force of 72,000 personnel, there are only about 1000 women. During NDTV's interview, the women listed two main factors that could encourage more of them to join the force which is responsible for securing India's borders with Nepal and Bhutan. Ms Ramasundaram should consider family quarters for women forces at the border and also creches in office, they said.
"Yes, I can identify with these needs," said Ms Ramasundaram, "but we have to keep in mind the objectives of the force first. That has to be the main objective to fulfil....Women in the police cannot be delicate darlings.''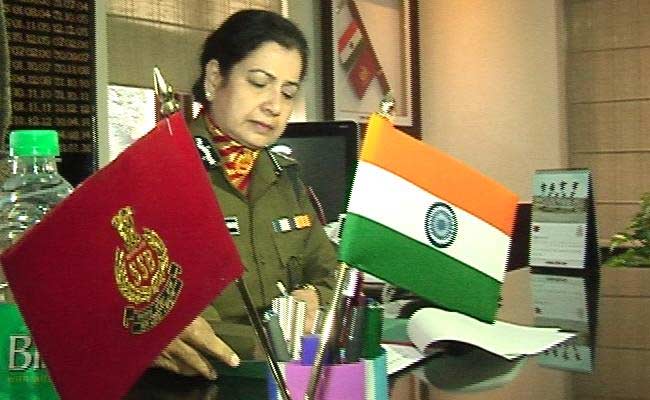 Ms Ramasundaram has dealt with her own share of hardships. Heading the team that cracked the famous Abdul Karim Telgi case or the fake stamp paper racket, she also made headlines when she was chosen to be the CBI's top investigator. But, the Jayalalitha government said she joined the CBI without taking permission and went to the Supreme Court. She had to spend months in the CBI without any work before leaving to head the National Crime Records Bureau. "It was destiny but I don't want to speak about it,'' she told NDTV. Asked about women bosses, she said, "I don't look at women and men differently,'' she said.
However, Ms Ramasundaram said that one lesson she's learned is to neglect critics and those who think women are under more scrutiny. "I think non-confrontation works best,'' she told NDTV.