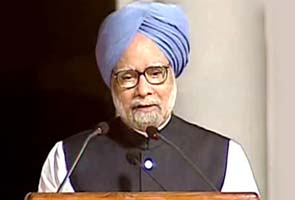 New Delhi:
In his effort to ensure a smooth Winter Session, Prime Minister Manmohan Singh will host top BJP leaders for dinner at his 7 Race Course Road residence today. Dr Singh has held a series of dinners and one lunch with allies and parties that give him external support, to consolidate the UPA's position ahead of what promises to be a heated session of Parliament.
Dinner with BJP Parliamentary Party Chief L K Advani, Leader of the Opposition in Lok Sabha Sushma Swaraj and her Rajya Sabha counterpart Arun Jaitley was scheduled for Saturday last, but had to be cancelled because of Shiv Sena leader Bal Thackeray's death that afternoon. The PM left the country for Cambodia on Sunday and returned only on Tuesday night.
The BJP is in belligerent form as the Winter Session begins today - it has made clear that it wants the FDI in multi-brand issue discussed under Rule 184, which entails a vote. The government does not a vote; it argues that it made an executive decision to allow big foreign supermarkets like Walmart to set up shop in India, and that it does not need the Parliament's endorsement of the decision.
An all-party meeting called by the Lok Sabha Speaker all-party meeting on Tuesday failed to break the logjam. Dr Singh did not attend Speaker Meira Kumar's meeting.
The government has made all efforts to ensure it has the required numbers in the Lok Sabha if there is a vote; the PM dined with his allies last Friday. Before that he had Sunday lunch with the BSP's Mayawati and dinner with the SP's Mulayam Singh Yadav. Both these parties provide crucial external support to the government, which was plunged into a minority after Mamata Banerjee walked out in September. She did so in protest against a clutch of big and tough reform measures, chief among them FDI in multi-brand retail, which she says is anti-people.
Though Trinamool Congress is still threatening to move a no-confidence motion inspite of clear indications from the BJP and the Left as also other opposition parties that they will not support it, the government can face embarrassment on FDI in multi-brand retail issue.
(With Inputs from PTI)