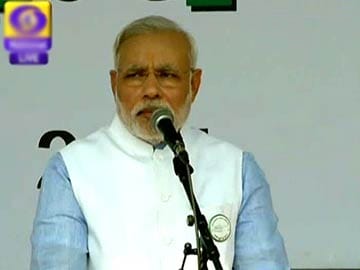 New Delhi:
Prime Minister Narendra Modi today launched a massive five-year Swachh Bharat Abhiyan or Clean India campaign on Mahatma Gandhi's 145th birth anniversary.
This is the pledge that the PM led today; 30 lakh government employees joined him:
Gandhi had dreamed of an India which was not only political free but free from garbage and dirt.
Gandhi had freed our nation now it is our duty to free India from dirt.
I pledge to do my bit towards cleanliness and take out time for this.
Every year to spend 100 hours or two hours every week towards this.
I will not litter or allow anyone to litter.
Starting with me, with my family , my locality , village and workplace I will work towards this.
I believe that all those countries which are clean are so because their citizens don't litter and don't allow this to happen.
With this in mind I will take this message from village to village and street to street.
I will also get 100 more people to take the pledge that I am taking . They too should spend 100 hours to do this and I will endeavor to make this happen.
I believe that my first step will help make my country clean.