New Delhi:
Highlights
PM arrived just before house proceedings began for the monsoon session
PM Modi spoke briefly to Mallikarjun Kharge and Mulayam Singh
PM Modi has thanked all parties for helping launch Goods and Services Tax
Prime Minister Narendra Modi walked up to the Opposition benches in Parliament on Monday morning, greeting Congress president Sonia Gandhi with a
Namaste
and shaking hands with leaders like former Prime Minister HD Deve Gowda, Samajwadi Party leader Mulayam Singh Yadav and Leader of the Congress in the Lok Sabha Mallikarjun Kharge, all seated in the front row.
PM Modi, who arrived in the Lok Sabha about five minutes before house proceedings began for the monsoon session, also greeted Congress Vice President Rahul Gandhi and the party's MP Jyotiraditya Scindia, who were seated in the second row. He spoke briefly to Mr Kharge and Mulayam Singh Yadav.
The Prime Minister has this morning thanked all parties for helping launch the mega reform Goods and Services Tax or GST, saying
GST also stands for "Growing Strong Together."
He said he hoped that spirit would also mark the
monsoon session that began today
and that all parliamentarians would engage in quality debate.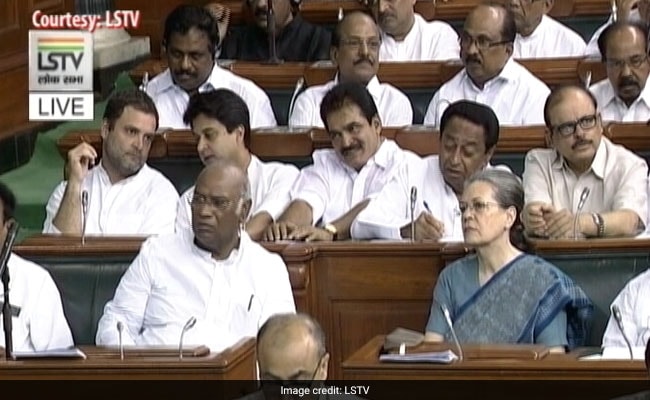 "GST shows the good that can be achieved when all parties come together and work for the nation. The GST spirit is about growing stronger together. I hope the same GST spirit prevails in the session," he said, adding, "This monsoon session is very important in many ways, the country will elect its new President."
PM Modi was speaking on his arrival in Parliament and shortly before he voted in the presidential election, which Ram Nath Kovind, the ruling BJP-led alliance's nominee is set to win easily, against Meira Kumar, fielded jointly by a bloc of opposition parties.
These parties have said they will unite in attacking the government over a series of issues including cow vigilantism and GST, which many of them allege was launched without adequate preparation.
West Bengal Chief Minister Mamata Banerjee said today, "We will play an aggressive role in Parliament. We are ready to go to jail but will not bow our heads."
As PM Modi entered the Lok Sabha today, BJP members stood up to greet him and Lok Janshakti Party MP Ramchandra Paswan touched his feet.