Ahmedabad:
Highlights
PM Modi took a seaplane ride on Sabarmati river
He offered prayers at temple in Mehsana as Gujarat campaigning ends today
Rahul Gandhi attacks PM, says "distraction from key questions"
Prime Minister Narendra Modi took off this morning in a seaplane from the Sabarmati river in Ahmedabad and landed 35 minutes later at the Dharoi Dam, about 180 km away.
He then drove to the famous Ambaji temple in Mehsana
to offer prayers as campaigning for the Gujarat assembly elections ends today. PM Modi is now back in Ahmedabad.
Amid some controversy over PM Modi riding the single-engine seaplane - the security rule-book says the Prime Minister can only fly in twin or multi-engine aircraft - he took off from near the Sardar Bridge connecting Ahmedabad's old city with the newer parts in the west. A special jetty was constructed to facilitate the boarding.
Photos showed PM Modi buckled in a seat in the sea plane. John Goulet, the pilot who flew the seaplane, said, "It was a very pleasing experience. I gave him a safety briefing. He was a very good passenger. Sea planes are very common in many countries, it should be popular in India also as you have lakes, the rivers, the coastal areas."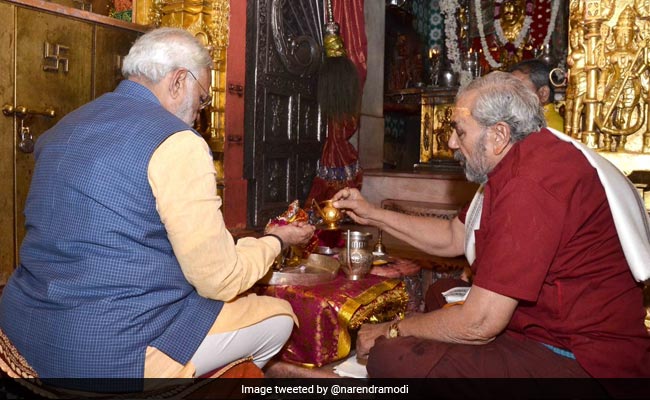 Congress president-elect Rahul Gandhi said the Prime Minister's seaplane ride was
"a distraction from key questions,"
adding that "the real question is what did you do for Gujarat in 22 years."
The seaplane take-off from the Sabarmati was Plan B after the PM's roadshow in Ahmedabad today was cancelled. It is designed to draw attention to the development work done by the BJP, which is seeking a fifth straight term in power in Gujarat, in response to the Congress, which has focused its campaign on alleging that the Gujarat model of development is a fail.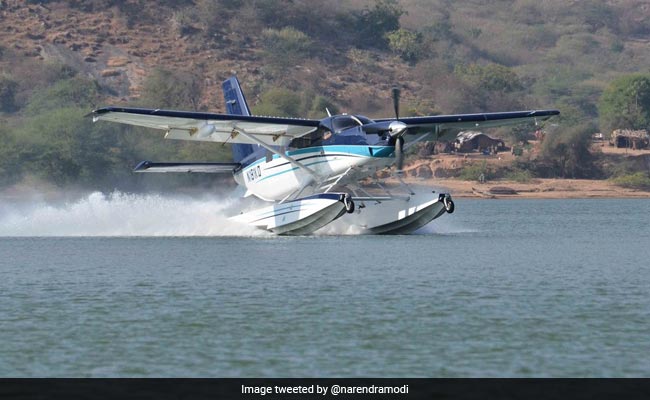 As PM Modi announced his sea-plane plan on Twitter on Monday evening, he also said, "With air, roads & rail connectivity, our Government is making efforts for harnessing waterways. All this is for 125 crore Indians," adding, "The transformation across Gujarat is for everyone to see. Sadly, Congress' notion of development is making a quick buck and that is why they are unable to see any change for the better."
PM Modi and Rahul Gandhi, who has been elected Congress president, had both planned roadshows in Ahmedabad today as a finale to a hectic, bitter campaign for the Gujarat elections. But both were denied permission by the Gujarat police, who said they feared law and order problems.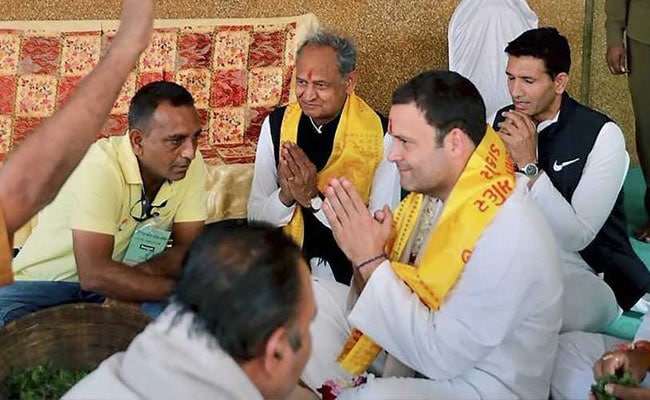 Rahul Gandhi's roadshow was planned through the old city while Prime Minister Modi's route was through the newer parts of Ahmedabad, across the river. But the police said there was a possibility of trouble because the routes "were in mutual conflict".
Mr Gandhi swapped his roadshow plan with a press conference in Ahmedabad, where he attacked PM Modi over jobs, new national tax GST and other issues. The battle for the crucial state, seen as a PM Modi vs Rahul Gandhi contest, saw the two leaders conduct aggressive campaigns and make sharp, often personal remarks against each other.
Both addressed multiple rallies in the last few days of campaigning, with political sparring escalating after PM Modi alleged that Pakistan was interfering in the Gujarat elections and that Congress leaders, including his predecessor Dr Manmohan Singh, discussed the state polls with Pakistani guests at a dinner hosted last week by Mani Shankar Aiyar, since suspended from the Congress over his
"neech" slur against the PM
.
Get Breaking news, live coverage, and Latest News from India and around the world on NDTV.com. Catch all the Live TV action on NDTV 24x7 and NDTV India. Like us on Facebook or follow us on Twitter and Instagram for latest news and live news updates.