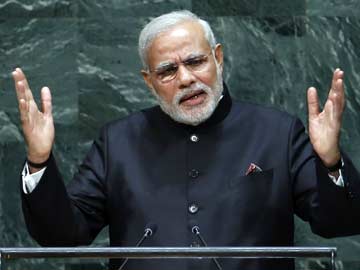 New York:
Prime Minister Narendra Modi spoke in Hindi as he addressed the UN General Assembly session in New York on Saturday, emulating his party, the BJP's iconic leader and former prime minister Atal Behari Vajpayee.
Since taking charge as Prime Minister in May, Mr Modi has stuck to Hindi for most of his speeches and interactions with world leaders. Only after the historic entry of India's Mangalyaan into the Mars orbit earlier this week, did he use more than a smattering of English while addressing space scientists.
Mr Vajpayee, who was Prime Minister from 1998 to 2004, was the first person to speak in Hindi at the United Nations General Assembly. As foreign minister, he addressed a session in 1977 in Hindi.
Mr Vajpayee also spoke in Hindi at the UN General Assembly's Millennium Summit and ended his speech with a Sanskrit shloka.
In 1988, as then foreign minister, PV Narasimha Rao also addressed the UNGA in Hindi. Mr Rao, who could speak 17 languages, later became Prime Minister.
Hindi is not among the official languages of the UN, which are Arabic, Chinese, English, French, Russian and Spanish.